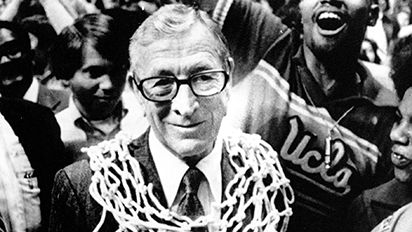 JOHN WOODEN IN GRAVE CONDITION
Legendary UCLA coach John Wooden, whose teams won 10 national titles, was in grave condition late last night at the UCLA Medical Center, school sources have confirmed. And a source told ESPN's Shelley Smith that Wooden's daughter confirmed that the 99-year-old was alive. His Bruins won 88 consecutive games from 1971-74 and 38 consecutive NCAA tournament games from 1964-74. Both records still stand.
More from The Rundown, including some Funky Cold Medina for the Blackhawks, and Phil Jackson as a band-leader marching to the beat of his own drum, after the jump.
BLACKHAWK DOWN
Game 4 of the Stanley Cup Finals is tonight in Philadelphia (8:00 ET). Chicago is an overtime loss away from a 3-0 series lead. But because they lost, keep this in mind - they're 4-0 following a loss in these 2010 Stanley Cup Playoffs. And in those four games, they've outscored their opponents 14-3. That's some Funky Cold Medina. Right, Jeremy Roenick?
Game 4 Preview | Jeremy Roenick is no Tone Loc
111
With the win last night, Phil Jackson and Kobe Bryant have teamed up for 111 postseason wins. No other coach and player combo has ever won more. Phil and Scottie Pippen won 110. Phil and Michael Jordan won 105. Phil and Derek Fisher have won 105. That's a lot of Phil. Makes one wonder which combo has racked up the most postseason losses. And how many times Phil beat them.
So if Phil Jackson was in a band, he'd a drummer, and he'd be this guy.