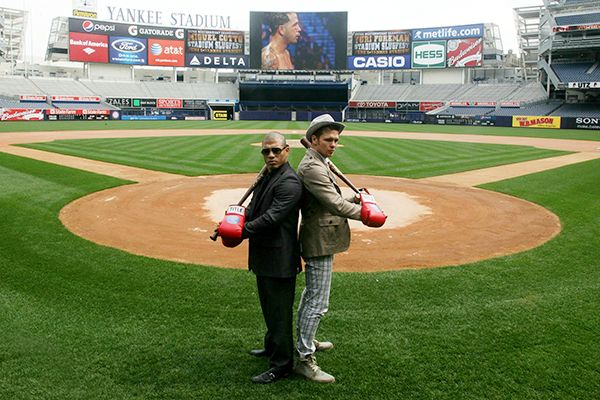 AP Photos/Bebeto Matthews
Umm, you guys may want to lose the bats before stepping in the ring tonight.
What do you get when you mix a future rabbi with the pride of Puerto Rico? How about the first boxing match at Yankee stadium in 34 years? Undefeated Israeli boxer Yuri Foreman (28-0, 8 KO's) will face Miguel Cotto (34-2, 27 KOs) for the WBA junior middleweight title from Yankee Stadium 2.0 tonight on HBO at 10:15 (ET). Not since Muhammad Ali defeated Ken Norton on September 28, 1976, has the Bronx hosted a bout from the house that George Costanza used to work in.
This outdoor bout should be stellar, but as the case with any non-traditional sporting venue, there are many obstacles to overcome. Unlike Cowboys Stadium, which hosted Pacquiao versus Clottey back in March, Yankee Stadium does not possess a retractable roof, so weather could become a factor. According to Weather.com, isolated thunderstorms are in the forecast for tonight's match. How would this affect the bout? Do they reschedule the fight, move it inside to the Hard Rock Cafe (limited seating) or should Cotto and Foreman duke it out in the rain like Gary Busey and Mel Gibson at the conclusion of "Lethal Weapon?"
An outdoor venue also lends itself to UFP's -- unidentified flying people. On November 6th, 1993, during a heavyweight bout between Riddick Bowe and Evander Holyfield, a man parachuted into the ring, causing a fight stoppage in the seventh round. The parachutist, James Miller aka Fan Man, was then dragged into the crowd at Caesars Outdoor Arena and beaten by Bowe's entourage. Fan Man died in 2002 (unrelated to flying), but security should continue to keep their eyes peeled for other UFP's; specifically Mike Sergio. It's been 24 years since Sergio parachuted into Shea Stadium during Game 6 of the 1986 World Series with a "Go Mets" banner. You have to wonder, with the Mets set to invade Yankee Stadium in two weeks, is there a better event for an encore presentation?
We also recommend the crew putting the boxing ring together take their time; transporting sporting equipment for a special event is not as easy as it looks. In preparation for the NHL's 2009 Winter Classic at Wrigley Field, two Zamboni's were delivered to ice the rink at the Friendly Confines. While being unloaded, one of the ice-grooming machines got away from its driver and crashed into the pavement (pretty amazing how the dude held on!). There won't be any Zamboni's on hand tonight, but wherever the ring is coming from it's important to make sure all the pieces are in place -- nobody enjoys falling through a ring.
Of course, if tonight's bout goes off without a hitch there's always the chance the Knicks will consider using Yankee Stadium for some regular season home games. The Suns and Nuggets already played an exhibition outdoors this past preseason. Plus, imagine what the cost of seats would be to sit behind home plate and watch LeBron. We're just sayin' ...