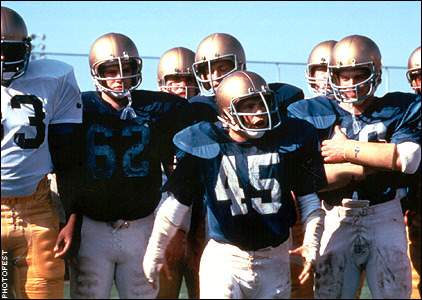 "Okay guys, we're just one snap away from another statistically insignificant but completely heartwarming season."
The ink hasn't dried on Charlie Weis' termination papers, yet speculation is already in full swing about who will wear the big headset in South Bend. We're aware of candidates like Bob Stoops and Brian Kelly, but Notre Dame has tried that "proven coaching experience" angle before. We say give these wildcards a shot:
Regis Philbin – The holder of the Guinness World Record for "Most Hours on Camera" isn't shy about the media or his Monday morning quarterbacking. His tenure couldn't be any worse than the George O'Leary era.
Hannah Storm and Mike Golic – As long as we're running with sports-savvy alumns, why not establish the NCAA's first co-ed head coaching tandem? Their evenings are free, right?
Daniel "Rudy" Ruettiger – What team wouldn't rally around the most galvanizing single career sack player in school history?
Sean Astin - If we can't hire the real Rudy, give us his slightly less inspirational Hollywood counterpart. As for defense, the guy knows how to fight off a giant spider with a sword.
President Josiah Bartlet – The popular, albeit fictional, inhabitant of the West Wing knows how to diffuse tensions with the Gulf State of Qumar. We think it's not much of a stretch to draw up an option play.
Quasimodo – The guy really knows how to get low in the trenches and he's used to fighting as the underdog. Done and done.
Come on, athletic director Jack Swarbrick. You don't really think you have a chance with Urban Meyer, do you?