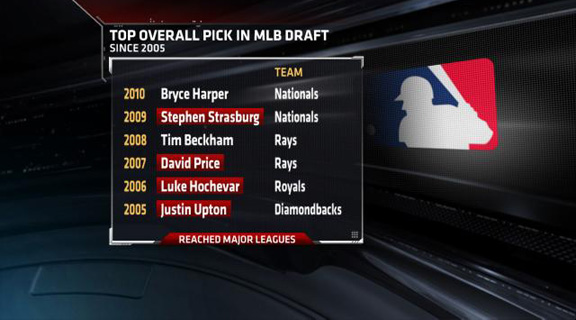 BUILDING BLOCKS: The Nationals selected Byrce Harper with the number one pick Monday night. While the MLB Draft is an inexact science, most of the top overall picks over the last 5 drafts have had success already. David Price, Luke Hochevar and Justin Upton have already spent time in the big leagues. 2008 top pick, shortstop Tim Beckham, who was drafted out of high school, is currently in Single-A ball.
After the jump, find out the truth about college coaches making the jump to the NBA and why the Angels are playing better ball without Kendry Morales.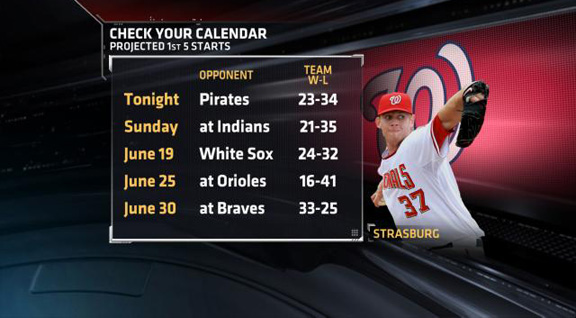 TIME TO SHINE: Steven Strasburg's first 4 starts are projected to be against 4 losing teams who are currently a combined 58 games under .500. After the Pirates, he could get the Indians, White Sox and Orioles. His first real test (against a team with a winning record) could come on June 30 in Atlanta against the NL East-leading Braves.
Standing room only for Strasburg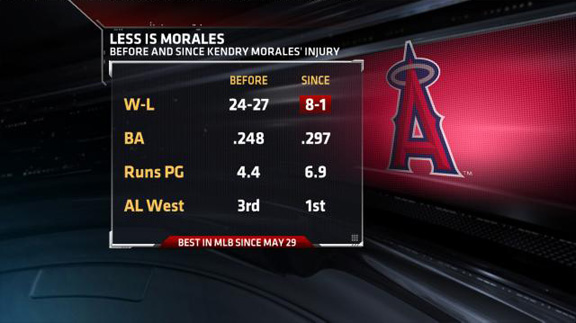 GET WELL SOON: When Kendry Morales broke his leg celebrating his walk-off grand slam May 29th, he led the team in home runs and RBI, so its hard to imagine his loss would actually help the Angels offense. But they have been on a tear since the injury, winning 8 of 9 and moving from 3rd to 1st in the AL West.
Game Recap | Box Score | Highlight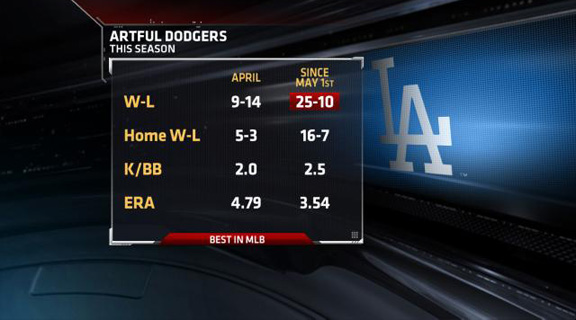 BLACK AND BLUE: After struggling in April, the Dodgers have picked it up since going 25-10. That's good for the best record in baseball since May 1st. They're 16-7 at home and their ERA is down to 3.54 from 4.79 in April.
Game Recap | Box Score | Highlight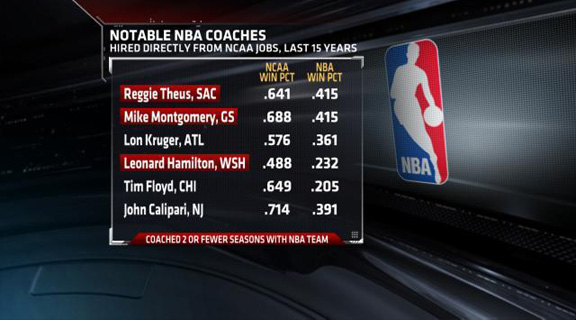 MAKING THE JUMP: With the Cavs interest in Michigan State's Tom Izzo, lets look at colleges coaches who have made the transition to the pro game. Overall, they have not fared well of late. Recently Reggie Theus struggled to win in his less-than-2-seasons in Sacramento. And even John Calpari, who has done extremely well in college, won fewer than 40 percent of his NBA games and was 3-and-17 when he was fired by the Nets in 1999.
NOTE: The Elias Sports Bureau and ESPN Stats And Information Group contributed to this report.