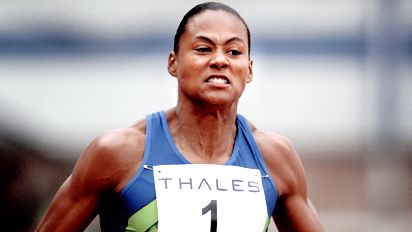 Photo: AP Photo/Eric Brinkhorst
"I got that sprinting competition on lock-down at the WNBA All-Star festivities."
Marion Jones, 34, told Fanhouse and the New York Times Monday that she misses competitive sports and will attempt a comeback as a professional basketball player. Jones was part of the UNC women's basketball team that won the NCAA title in 95' and was later drafted by the WNBA's Phoenix Mercury so this occupational change is not nearly as weird as former NHL star Tim Horton pushing doughnuts on the public.
We took a look at some of the more obscure job changes that have taken place in the world of sports:
Roy Jones Jr. – This jack-of-all-trades released a rap album titled "Round One: The Album" in 2002 with the amazing "Y'all Must've Forgot," as its top hit. He one-upped himself in 2003 starring as Captain Ballard in the Matrix Reloaded.
Bill Romanowski – On the field, Romo was a hard-nosed linebacker who won 4 Super Bowls and started in 243 consecutive games, which is a record for linebackers. But since his retirement, Romo has become quite the motivational speaker. His nutrition53.com videos are quite the hidden gem so get in at the ground level. Here Romo tells us to enjoy our berry pie, but lay off the "a la mode." Why are none of the walkers in the background phased by this?
Terrell Owens – As if Owens wasn't a walking reality show already, in the summer of 2009, VH1 launched the T.O. Show that followed his personal life off the field. And we thought leather jackets and no shirt was a fashion faux pas?
Paul Newman – After starring in Butch Cassidy and the Sundance Kid (1969) and Cool Hand Luke (1967), Newman drove for the Bob Sharp Racing team in the Trans-Am Series. We applaud his love for racing, but his obsession with Caesar Dressing and Salsa is what really made us love him.
Brian Bosworth – While Brian Bosworth is the only college football player to win 2 Butkus Awards as the nations top linebacker, he has yet to achieve the same level of success as an actor. That doesn't mean that his 1991 film Stone Cold isn't meant to be cherished and studied. Riding motorcycles with William Forsythe could be considered a career highlight for anyone, not just a former NFL player.