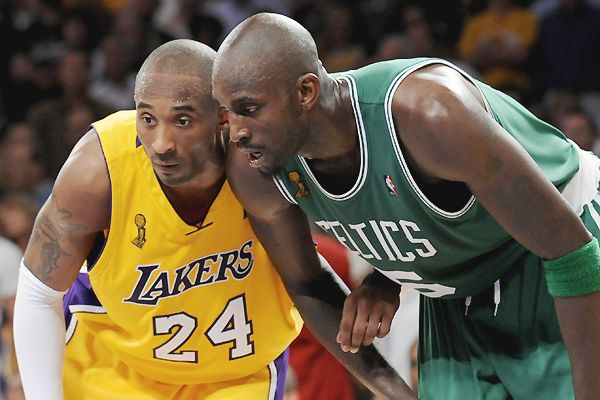 AP Photo/Kevork Djansezian
Los Angeles Lakers (57-25, 23-18 away) at Boston Celtics (50-32, 24-17 home)
9:00 PM ET on ABC/ESPN Radio -- TD Garden, Boston, MA (Series tied 1-1)
Just 48 hours after the Celitcs evened the NBA Finals in L.A., the teams travel 3,000 miles across the country for Game 3. Historically Game 3 has been the pivotal game after teams split the first two games in the NBA Finals. The winner of Game 3 is has won 28 of the 32 series. In the 2-3-2 format (since 1985), when the NBA Finals is tied 1-1, the winner of Game 3 has gone onto win the series on 10 of 10 occasions (100.0%). The Lakers have lost their last four playoff games in Boston. Their last road victory against the Celtics in the playoffs was in Game Four of the 1987 Finals, a 107-106 decision. Ray Allen set a new Finals record with eight three pointers in Game 2 (seven in the 1st half). He is also the owner of the best 3pt FG% in Finals history.
Highest Career 3-pt FG pct - NBA Finals History (Min. 20 Attempts)
Ray Allen-----------54.5%
Rick Fox------------48.6%
John Paxson--------47.2%
Isiah Thomas-------46.2%
Game Preview: LAL vs. BOS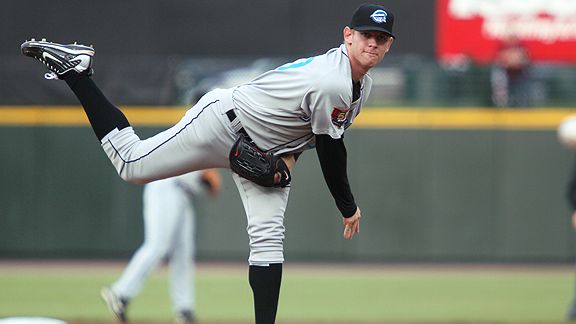 Jerome Davis/Icon SMI
Pittsburgh Pirates (23-34, 9-19 away) at Washington Nationals (27-31, 15-12 home)
7:05 PM ET -- Nationals Park, Washington, D.C.
Starting Pitchers
Pittsburgh: Jeff Karstens (1-1, 4.50 ERA)
Washington: Stephen Strasburg (0-0, 0.00 ERA)
The most highly regarded pitching prospect in years will finally make his MLB debut tonight in Washington. Stephen Strasburg will take the mound for the first time against the struggling Pittsburgh Pirates. Nationals Park has been sold out, a rare occurance for the Nationals, and the internet has been buzzing all day with people looking for available tickets. Strasburg combines a high 90's fastball with a devastating curveball and a sinking changeup that hitters are helpless against. In stints at Double-A and Triple-A his stats were beyond impressive. The 21-year-old phenom went 7-2 with a 1.30 ERA with 65 strikeouts and only 13 walks in 55 1/3 innings.
Game Preview: PIT vs. WAS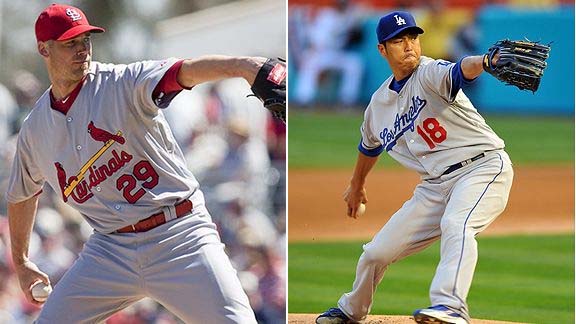 AP Photo and US Presswire
St. Louis Cardinals (33-25, 14-15 away) at Los Angeles Dodgers (34-24, 21-10 home)
10:10 PM ET -- Dodger Stadium, Los Angeles, California
Starting Pitchers
St. Louis: Chris Carpenter (7-1, 2.76 ERA)
Los Angeles: Hiroki Kuroda (5-4, 3.63 ERA)
The first-place Cardinals are in a battle with the Reds for the division lead and will send their ace to the mound tonight. Chris Carpenter will take the ball against a team he's had a lot of success against in his career. Carpenter is 5-0 with a 2.20 ERA in six career regular-season meetings, including 2-0 with a 1.80 ERA in two starts versus Los Angeles last year.
The Dodgers will counter with Hiroki Kuroda. Kuroda is 5-4 with a 3.63 ERA but has dropped three straight starts for the first time in his career, posting a 6.19 ERA in that span. The right-hander yielded four runs over six innings Thursday in a 4-3 loss to Atlanta. Things won't get easier for him against Albert Pujols and the Cardinals.
Most Wins - First 100 Decisions With New Team (Since 1900)
Pedro Martinez, BOS-------------78
Chris Carpenter, STL--------75
Whitey Ford, NYY---------------74
Dwight Gooden, NYM-----------74
Randy Johnson, ARI------------74
Game Preview: STL vs LAD