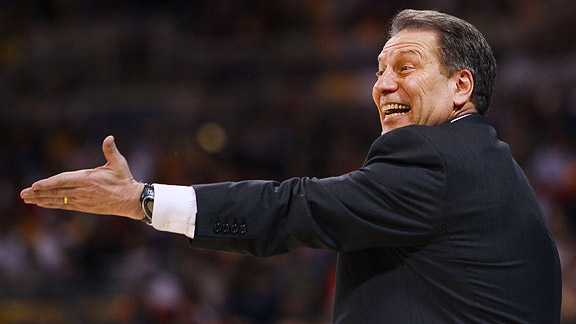 Elsa/Getty Images
Tom Izzo will owe Michigan State $500,000 if he leaves to coach the Cleveland Cavaliers. Cutting a check shouldn't be a problem. A person familiar with the situation told The Associated Press today that Cavs owner Dan Gilbert and Izzo discussed terms of a possible contract that would pay the coach up to $6 million a year for four or five seasons. Izzo currently makes more than $3 million a season and is under contract through 2016.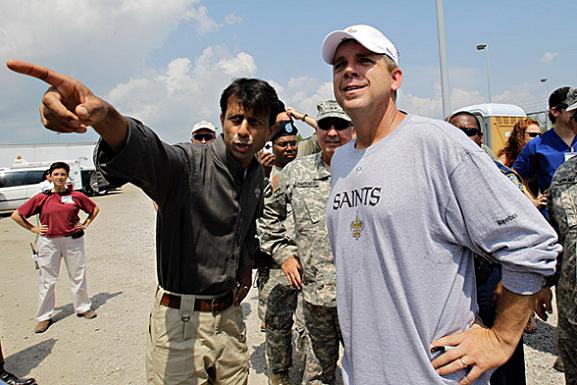 Louisiana Gov. Bobby Jindal and Saints coach Sean Payton discuss the effects of the oil spill at the International Bird Rescue Research Center.
AP Photo/Eric Gay
Saints Brighten Spirits In Oil Spill-Weary Area
The Super Bowl champion Saints visited the coastal Plaquemines Parish in Louisiana today ... an area affected by the Gulf oil spill. Coach Sean Payton says the Saints initially planned to attend a lunch at the governor's mansion in Baton Rouge, but Gov. Bobby Jindal and the team decided it would be more appropriate to meet at a site that is now suffering from the worst oil spill in the nation's history. Payton brought along the Vince Lombardi Trophy and hopes the coaches and players can provide moral support and help keep peoples attention on the troubled region.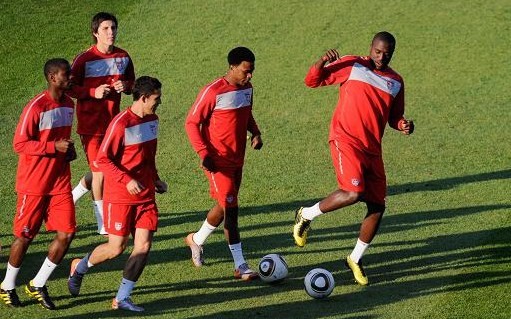 Jozy Altidore leads the pack during today's training session in Pretoria, South Africa.
Kevork Djansezian/Getty Images
Forward Jozy Altidore has resumed full training with the U.S. World Cup team, six days after spraining his right ankle during practice. "I feel great. The ankle feels fine," Altidore said after practice today. "It's a little sore, but I had no issues participating in all the exercises today. I'm happy to be part of the group again." Altidore, who has nine goals in 25 international appearances, didn't play in Saturday's 3-1 exhibition win over Australia. The U.S. plays its World Cup opener against England on Saturday.
The Associated Press contributed to this report.