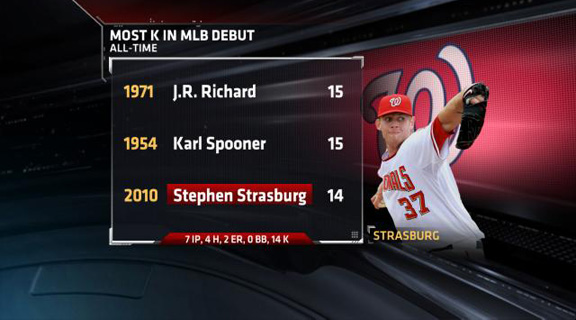 SPECIAL K: He delivered on all the hype. Actually, he probably over-delivered. The MLB record for strikeouts in an MLB debut is 15, shared by Astros great J.R. Richard as well as Karl Spooner. Stephen Strasburg nearly matched that record with 14 strikeouts Tuesday. Unlike Richard and Spooner, however, he did not walk a batter. It was definitely a debut for the ages.
Game Recap | Box Score | Highlight | Strasburg's reality almost unreal
After the jump, find out what a difference a year makes for Zack Greinke, why the Mets love Citi Field, and its never to early to start thinking about football.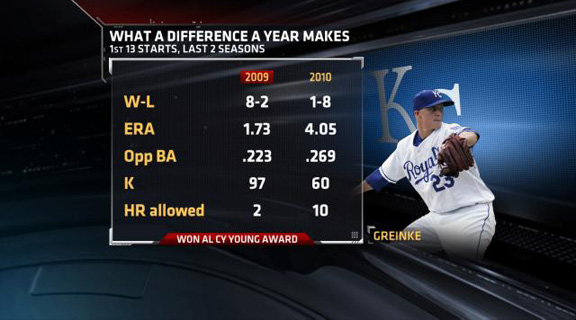 NOT SO GOLDEN: While Strasburg was delighting the fans in Washington, it was another tough start for Zack Greinke. The defending Cy Young winner is now just 1-8 (ouch) with a 4.05 ERA in his first 13 starts this season. Last season at this point, he was 8-2 with a 1.73 ERA. Opponents are hitting 40 points higher and he's allowed 5 times more home runs.
Game Recap | Box Score | Highlight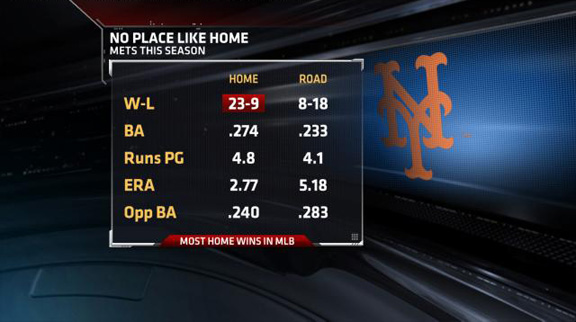 HOME SWEET HOME: The Mets sure love Citi Field. This season they have won over 72 percent of their home games but they are 8-18 on the road. Their batting average is nearly 40 points higher at home and their home ERA of 2.77 is nearly half of their road ERA of 5.18. Only the Orioles have a worse road record than the Mets.
Game Recap | Box Score | Highlight | MLB Standings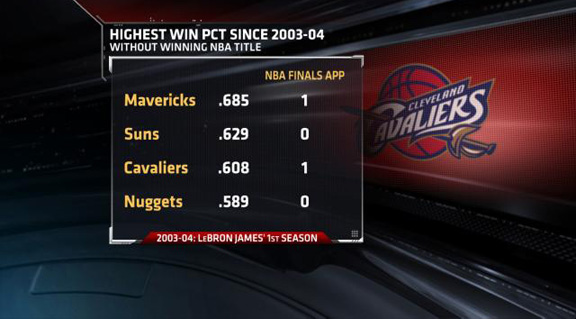 STILL SEARCHING: Since LeBron James entered the NBA in 2003, the Cavs have the third-highest win percentage among teams that have NOT won an NBA title. Cleveland had the most regular-season wins in EACH of the last two years, but failed to reach even the conference finals in either season.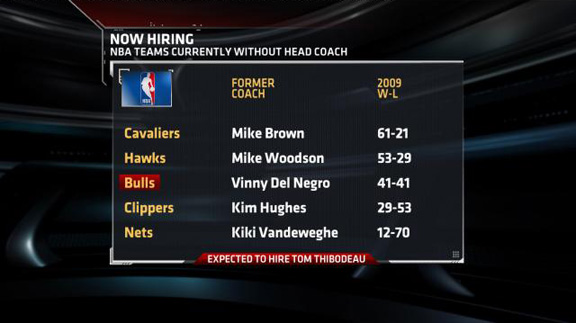 ACCEPTING APPLICATIONS: Five NBA teams currently looking for a head coach. The most coveted job left seems like the Cavs (if Lebron stays put), but the Clippers and Nets promise to be active in free agency, which could make things interesting. The Bulls meanwhile are "technically" without a coach, but are expected to hire Celtics assistant Tom Thibodeau after the Finals.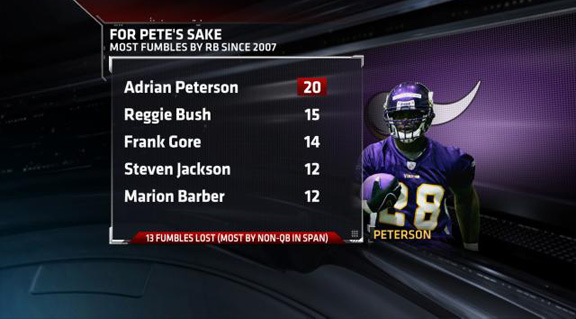 FUMBLE-ITIS: Since Adrian Peterson entered the NFL in 2007, no other running back has come close to his twenty fumbles. In fact, the distance between first and second on this list is the same as the distance between second and tenth! Only three players have fumbled more often in this span and they are all quarterbacks (Kurt Warner, Eli Manning, JaMarcus Russell). But, you would probably be crazy to not draft him with the first pick in your fantasy draft.