Just talked to Mike McKenzie after the Saints win over the Patriots on Monday Night Football. He had an interception and a strong overall performance for an injury-depleted unit. One of the story-lines going into the game was how well Saints backups in the secondary would deal with Tom Brady, Randy Moss and the Patriots passing game...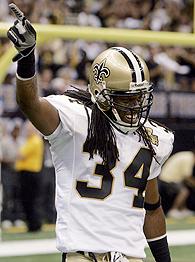 Matt Stamey/US PRESSWIRE
McKenzie came to the rescue. With starters Tracy Porter and Jabari Greer both hurt, the Saints turned to an old friend to help fill the void. Or better yet, he turned to them. Before he picked off that pass, McKenzie picked up the phone.
"I called Coach Payton on the Thursday before the Saints played the Buccaneers. He (Payton) said, 'What took you so long to call?' " McKenzie said he had a workout for the Saints the following Monday and re-signed with the team. He hadn't played in over a year after returning from a second serious knee injury that many thought had ended his career.
The Packers were also interested, because McKenzie's old running mate at cornerback in Green Bay, Al Harris, also went down with an injury recently. But McKenzie said he was living in New Orleans, and was happy there. And the chance to return to the NFL without having to move was the deciding factor in choosing New Orleans over Green Bay.
And now, with his impressive return, after just one week of practice, McKenzie has added another storyline to what has been one of the NFL's best stories this season. The Saints are surely glad he picked up the phone.