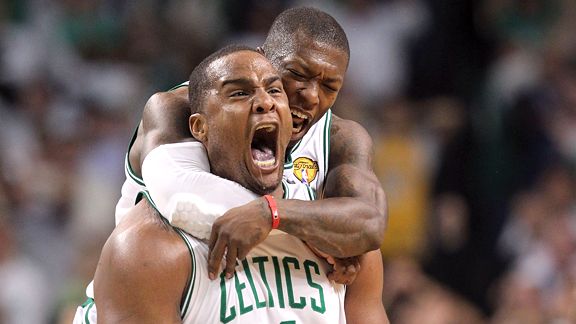 Ronald Martinez/Getty Images
Celtics Win Game 5, Tie Series at Two
A "Big Baby" helped the Boston Celtics defeat the Lakers 96-89, tying the NBA Finals at two games apiece. Glen "Big Baby" Davis scored 18 points and 5 rebounds and Nate Robinson added 12 points, both players coming off the bench to spark the C's to victory. Kobe Bryant's 33 points led the Lakers in defeat. Game 5 is Sunday at 8pm ET on ABC and ESPN Radio.
NCAA Delivers Postseason Football Ban
USC received a two-year bowl ban and a sharp loss of football scholarships after a four-year investigation and the release of an NCAA report on the school. USC was cited for a "lack of institutional control", in detailing numerous violations, primarily involving Heisman Trophy-winning tailback Reggie Bush and men's basketball player O.J. Mayo.
Colorado Makes The Pac-10 The Pac-11
It's official ... Colorado has accepted an invitation to become the Pac-10 Conference's 11th member. With Colorado gone and Nebraska on the verge of maybe moving on to the Big Ten, this could seriously damage the Big 12's hope to keep the conference intact.
UT and Texas A&M May Go in Different Directions
The presidents and athletic directors of Texas and Texas A&M met Thursday to discuss the future of their athletic programs and the Big 12 after Colorado decided to accepted an invitation to join the Pac-10 and with Nebraska weighing a move to the Big Ten. A person briefed about the discussions said the situation was "still fluid" and the Texas schools could stay in the Big 12.
Round-the-World Teen Sailor Feared Lost at Sea
Rescuers in the Pacific ocean are searching for Abby Sunderland, the 16-year old girl trying to circle the globe on her own. At last contact, Sunderland was in a storm, having trouble with her radar and at least 400 miles from the nearest ship. She was about four hours from being reached, even by plane, between Africa and Australia.
Tom Izzo Leaning Toward Cavaliers?
According to a number of sources close to Tom Izzo and the Michigan State program, there is a growing feeling that Izzo may take the Cavs top job. This according to ESPN's Andy Katz. At least one close confidant to Izzo, who is coaching in the NBA, conveyed through another source Thursday that Izzo is close to taking the job.
Byron Scott Has Phone Interview with Cavs
ESPN analyst Byron Scott had an hour-long phone interview with Cleveland general manager Chris Grant and assistant general manager Lance Blanks today. Scott's agent Brian McInerney told Fanhouse.com that the discussion focused on Scott's championship pedigree and how it might fit with the Cavs organization.
Roethlisberger Apologizes for Past Mistakes
A contrite Ben Roethlisberger told KDKA and WTAE TV stations that his problems happened because he was young, dumb and immature. During his first detailed interview since a Georgia college student accused him of sexually assaulting her, Roethlisberger said he expects to be booed this season and promised to become the role model he should have been throughout his career.
World Cup Referees Learning Curse Words
The Brazilian referee and his assistants who are scheduled to work the England-United States World Cup match on Saturday have been studying English-language obscenities. FIFA denies that they've been given a list of words, but the three officials want to be sure they won't be abused.