Celtics 96, Lakers 89 (Series tied 2-2)
The Celtics won Game 4 of the NBA Finals without a player scoring 20 points—Paul Pierce led the team with 19. Over the last 25 years only three other teams have won an NBA Finals game without a 20-point scorer: the Spurs against the Cavaliers in 2007 (Game 3), the Pistons against the Spurs in 2005 (Game 4) and the Knicks against the Rockets in 1994 (Game 2). But that's been the Celtics' S.O.P. over the last few seasons: over the last three regular seasons Boston has won 30 games in which their leading scorer had fewer than 20 points, the highest total for any team in the league.
Game Recap | Box Score | Forsberg: Davis energizes C's | Lakers can't stop Big Baby, C's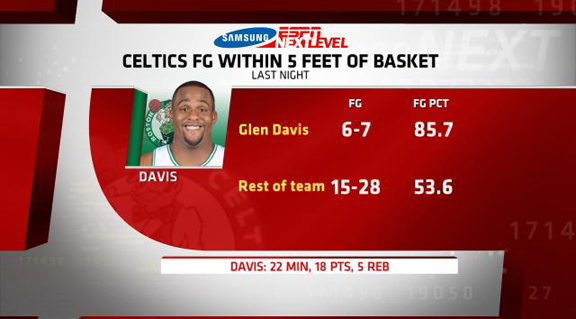 We go Next Level, to show how impressive Glen Davis was last night. In just 22 minutes, he produced 18 points, including 12 points on 6 of 7 shooting within 5 feet of the basket! That nearly 86 percent shooting, was over 30 percentage points better than the rest of his teammates!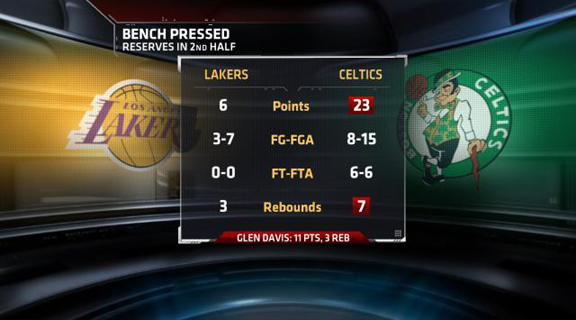 The Celtics bench was a huge factor in their Game 4 win ... especially in the 2nd half. They outscored the Lakers bench by 17 points.