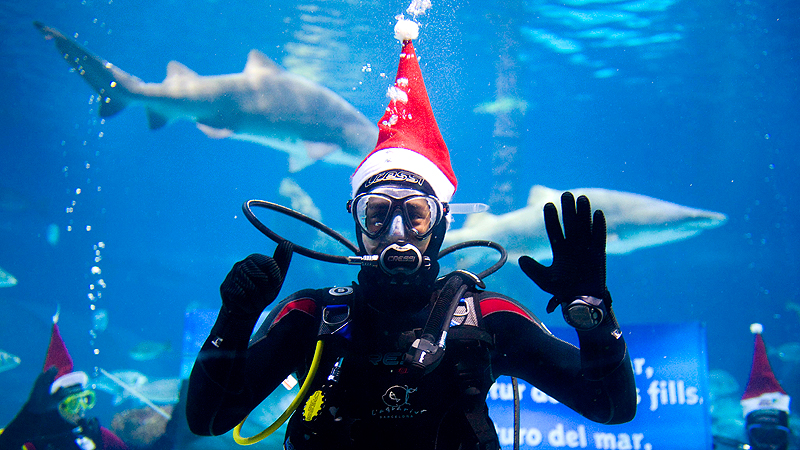 AP Photo/David Ramos
Christmas arrived early for Marlins fans and it came in the form of a brand new aquarium!
Pop quiz, hotshot sports fans. Your franchise has the second worst attendance in MLB and you have a brand new ballpark set to open in April 2012. What do you do? What do you do? For the Marlins that answer is simple: install two huge aquariums behind home plate.
As depicted in the artist's rendering, the aquariums will be situated to the left and right of home plate, not directly behind it, and each ecosystem will be protected by Lexan - the material used in bullet proof windows. The Marlins will become the second Florida ball club to house marine life, but unlike the Rays who've filled their Touch Tank with stingrays from the Tampa waters, the aquariums in South Florida will not be able to fit a marlin. Unless of course Billy the Marlin wants to go for a dip.
On top of establishing a possible destination for a third installment to the Deuce Bigalow series (he's a fishtank repairman), this aquatic innovation unquestionably gives the Marlins a leg up on the rest of the NL East when it comes to ballparks attractions. If the rest of the division wants to keep pace with Florida, they might want to consider entertaining some new elements.
Atlanta Braves:
Bobby Cox Virtual Ejection Video Game
Sure, Bobby Cox is set to retire at the end of this season, but that doesn't mean his legend shouldn't live on. After his 132nd ejection back in August 2007, Cox became the most ejected manager in MLB history. In the Bobby Cox Virtual Ejection Video Game, fans play the role of Cox in a variety of umpire quarrels. Based on your level of arguing, you receive power-ups like chest bumps and the ability to kick dirt on the umps. And of course, every season would culminate with a gamer World Series, where all the players would be forced to play wearing Bobby Cox body suits. Hello, Awesome New Reality Show. We can't wait to watch you!
New York Mets:
Hot Foot 101
With each ticket purchased, Mets fans will also receive an Admit One to Hot Foot 101. Taught by 1986 Mets icons, Roger McDowell and Howard Johnson, those who attend class will learn the art of the hot foot from its pioneers and then receive adequate supplies to enact said Hot Feet upon unsuspecting visiting team fans during the evening's game. This is what they call a true home field advantage.
Washington Nationals:
Presidential Putt-Putt
Forget 18 holes, 44 U.S. Presidents means 44 holes of mini-golf! Each hole would be themed after the U.S president starting with Washington and ending with Obama. Fans are urged to play a round of golf at any time during the day and each time a hole-in-one is hit, that fan will be entered into raffle where one lucky winner will be chosen to ride in Air Force One with President Obama at season's end.
Philadelphia Phillies:
Phillie Phanatic Dance Class
After the Phanatic's Lady Gaga performance back in April, it's kind of shocking the Phillies haven't already thought of this. Win or lose, at the end of each game fans in attendance are invited to learn the hottest dance moves from Philadelphia's beloved mascot. At the end of the year, the Phanatic will select his favorite dancer to compete with him on season one of Dancing With the Mascots.