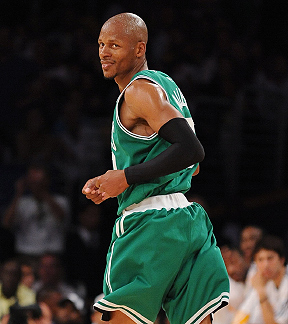 Noah Graham/NBAE/Getty Images
We saw the great, the horrible and the downright ugly from Ray Allen this week. Celtics fans are probably clamoring for some "consistently pretty good" this weekend.
This past week, Stephen Strasburg finally got it done on a Major League mound, but he wasn't the only one. On the hardwood, after a big-time blowout in Game 3, the Celtics evened up the NBA Finals at two games apiece. And on the ice, the Blackhawks made a lot of Chicagoans very, very happy. And running through all these events? A bunch of crazy eights.
8 – Triple-doubles recorded by Celtics players in NBA Finals history after Celtics guard Rajon Rondo's 19-point, 12-rebound, 10-assist performance in Game 2 of the NBA Finals Sunday night. Rondo's triple-double was the first by a Celtic in the Finals since Larry Bird did it in the 1986. Thanks to that line, Rondo also joined Jason Kidd, Isaiah Thomas and Magic Johnson as the only players to tally 300 points, 100 rebounds and 180 assists in a single postseason.
8 – Three-point field goals made by Celtics guard Ray Allen in the Celtics' 103-94 win over the Lakers in Game 2 of the NBA Finals Sunday night. The eight made 3s set a new record for most shots made from beyond the arc in an NBA Finals game. Allen finished with 32 points.
8 – Three point field goals missed by Celtics guard Ray Allen in a 91-84 loss to the Lakers in Game 3 of the NBA Finals Tuesday night. In fact, Allen missed all 13 shots he took and finished with just two points. Only one player in NBA Finals history had a worse performance from behind the arc – John Starks went 0-for-11 for the Knicks in 1994.
8 – Wins tallied by Cubs pitcher Carlos Silva after notching a 6-1 victory over the Pirates Monday night, bringing his record to 8-0. With the W, Silva became one of only four pitchers in Cubs history to go 8-0 through his first 11 starts, along with Ken Holtzman, Mordecai Brown and Jim McCormick.
8 – Shutout innings thrown by Boston hurler Daisuke Matsuzaka Monday night in a 4-1 win over Cleveland. That performance capped a stretch of nine road games for the Red Sox in which their starting pitchers went 8-0 win a 0.70 ERA.
8 – The date in June when rookie pitching phenom Stephen Strasburg finally took the mound for the Nationals. Strasburg won it in historic fashion, going seven innings with two earned runs, no walks and 14 strikeouts (one shy of the record in an MLB debut) in a 5-2 win. In the divisional era (since 1969) only three other rookies did not walk a batter in a game in which he struck out at least 14: Roger Clemens in 1984, Dwight Gooden twice in 1984 and Kerry Wood in 1998.
8 – TV share (percentage of television sets in use tuned to the channel) that Game 6 of the Stanley Cup Finals drew Wednesday night on NBC, making it the highest-rated NHL game in 36 years. The Blackhawks won it, 4-3, over the Flyers in overtime to claim their first championship since 1961.