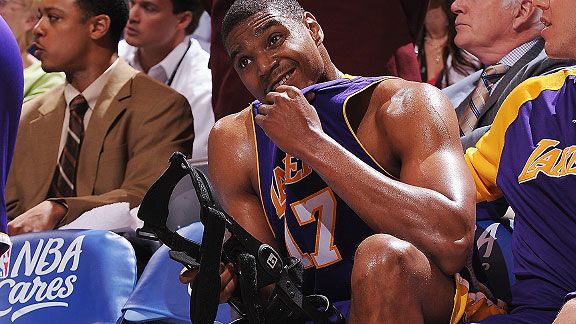 Andrew D. Bernstein/NBAE/Getty Images
Lakers center Andrew Bynum has been playing through a knee injury and on Friday had it drained for the 2nd time. Bynum said despite the procedure he would be "ready to go" on Sunday when the Lakers face the Celtics for Game 5. An MRI revealed no new damage, but fluid had to be drained just as it was before the Finals began. The injury limited Bynum to just 12 minutes in Game 4, and only two minutes in the second half. Without the 7-footer, the Celtics outscored the Lakers in the paint 54-34 in Game 4.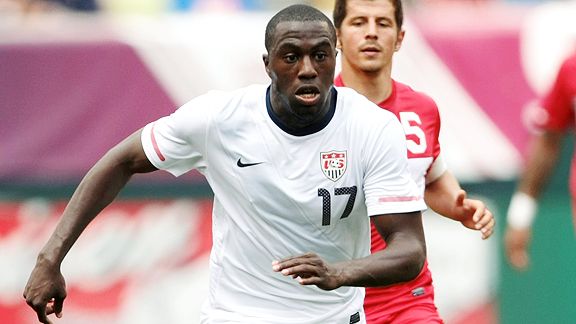 Fred Kfoury/Icon SMI
Team USA Prepares to Face England
In one of the most anticipated matches of the 1st round of the 2010 FIFA World Cup, the United States will face England today at 2:30pm ET on ABC. The Americans have arrived at The Royal Bafokeng Stadium in Rustenburg, South Africa and will face one of the most talented teams in the world. England is ranked 3rd according to the ESPN SPI ratings behind only Brazil and Spain. This is a chance for Team USA to prove they belong on the field with the world's best. The good news for the US is that Jozy Altidore and Oguchi Onyewu are expected to start. They will need all hands, and feet, on deck if they want to beat the British in their World Cup opener.
David Cannon/Getty Images
Argentina Opens With Win Over Nigeria
Just six minutes into the match, Argentina took the lead on Gabriel Heinze's brilliant header. Despite dominating most of the possession, they couldn't muster a 2nd goal hanging on for the 1-0 win. Nigerian goalie Vincent Enyeama kept his team in the game as best he could, but wasn't quick enough on the Heinze header. Argentina controlled 65% of the possession and Nigeria could only muster 1 shot on goal.