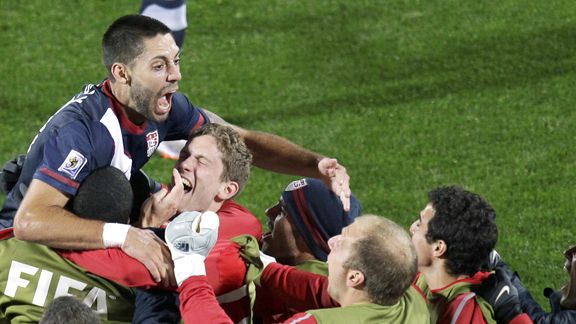 AP Photo/Michael Sohn
Team USA, Dempsey Tie England 1-1
Team USA overcomes an early England goal and escapes with a, 1-1, tie in its opening World Cup match Saturday. Steven Gerrard put England up, 1-0, in the fourth minute, beating Tim Howard from short range. Clint Dempsey tied the score by slipping a 25-yard shot past English keeper Robert Green. 38,646 were in attendance. U.S. faces Slovenia Friday at 10 AM ET on ESPN, ESPN3 and MobileTV.
Carlos Pena Homers Again, Rays Win
Tampa Bay's Carlos Pena did it again. Pena hit a home run today against the Marlins, his sixth-consecutive game with a long ball. Pena ties the franchise record and is two games shy of tying the MLB record of consecutive games with a home run (8). Pena has seven homers during the streak, giving him 15 this season and an AL-leading 131 since joining the Rays in 2007 - four more than Alex Rodriguez.
Arizona's Brandon Webb is moving closer to a return. The former NL Cy Young Award winner threw off the mound for the first time in three months today. Webb, who is recovering slowly from shoulder surgery, hasn't pitched in a game since last year's season opener.
Rich "Ace" Franklin Wins UFC 115 by Knockout
The non-title fight was scheduled for three rounds, but Rich "Ace" Franklin needed only 3 minutes 55 seconds to win. "Ace" knocked out Chuck "Iceman" Liddell with a right hook to the jaw. Franklin's first fight in the light heavyweight division for the first time since January 2009, was nothing short of stellar.
The news for the Big 12 didn't get any better today. Pac-10 commissioner Larry Scott flew to Oklahoma City on Saturday and spoke with officials from both Oklahoma and Oklahoma State, possibly with invites in hand, a source with knowledge of conference-realignment negotiations told The Oklahoman. OU's Board of Regents scheduled a special meeting Wednesday afternoon to discuss conference realignment.
Lakers center Andrew Bynum has been playing through a knee injury and on Friday had it drained for the 2nd time. Bynum said despite the procedure he would be "ready to go" on Sunday when the Lakers face the Celtics for Game 5. An MRI revealed no new damage, but fluid had to be drained just as it was before the Finals began.
Wade Skipping World Championships
Miami Heat guard Dwyane Wade is opting out, of the World Championships this summer. Wade, who remains a member of team USA and may still play for in the 2012 Olympics, instead will focus on a busy offseason filled his impending free agency, as well as child-custody and divorce cases in Chicago.
Celtics head coach Doc Rivers said Friday he wants his sweet-shooting guard back next year. Ray Allen is the only C's starter expected to hit the market, so Rivers and GM Danny Ainge can focus their attention on the 9-time all-star.
Broncos Name Orton Starting QB
Kyle Orton is the Denver Broncos starting QB, for now. Head coach Josh McDaniels knows however, that an ongoing competition involving Brady Quinn and rookie Tim Tebow still exists. "We've got a guy who's going to go into camp as the starter, no question about it, and he deserves it, and if somebody comes in there and plays better than he does then that player will play."
Teen Sailor Abby Sunderland, Rescued
16-year-old Abby Sunderland is no longer lost at sea. A French fishing vessel rescued the California teenager Saturday from her crippled sailboat in the turbulent southern Indian Ocean, bringing relief to her family but ending her around-the-world sailing attempt.
Note: The Elias Sports Bureau and ESPN Stats and Information group contributed to this report.