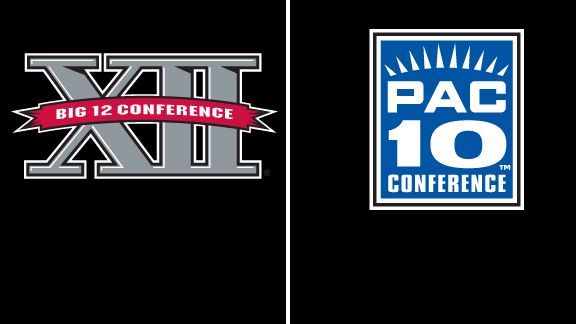 Big 12 Exploring Methods of Survival
The days of the Big 12 conference appear to be numbered, but the storied conference isn't going down without a fight. Nebraska and Colorado have already bolted and Texas, Texas Tech, Texas A&M, Oklahoma, and Oklahoma State have all been offered spots in the Pac-10. Baylor, Kansas, Kansas State, and Iowa State officials all discussed plans to keep the Big 12 alive by adding teams, should their conference be pillaged.
"We're still working to keep the remaining 10 Big 12 teams together," Baylor AD Ian McCaw said. "But if there are additional defections, our preference is to keep our core group of five and add additional teams."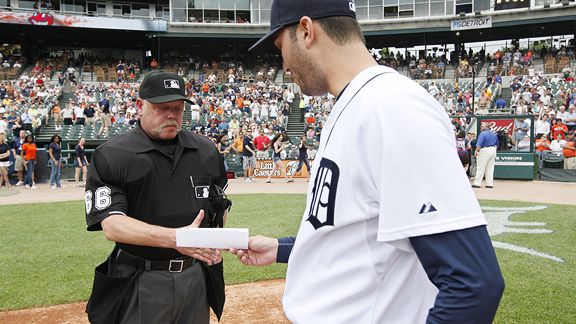 AP Photo/Paul Sancya
Jim Joyce made headlines when his botched call at first base robbed Armando Galarraga of a perfect game, but a mistake like that is apparently unusual for him. ESPN The Magazine conducted a poll of 100 players and found out that Joyce was regarded as the best umpire in the game. Joyce was mentioned on 53% of the surveys, well ahead of the 2nd best umpire Tim McClelland (34%). CB Bucknor was voted the worst umpire on 37% of the surveys, edging out Joe West's 35%.
Spanish striker Fernando Torres is not likely to play in Spain's opening match against Switzerland on Wednesday. Spain is currently ranked No. 2 in ESPN's Soccer Power index and Torres is one of their most dangerous scorers. He has been practicing at full speed after recovering from knee surgery in April, but the team is taking a cautious approach with his return.
"I don't think he'll play the first match, although he is not ruled out either," head coach Vicente del Bosque said in an interview with Spanish television broadcaster Telecinco late on Saturday.