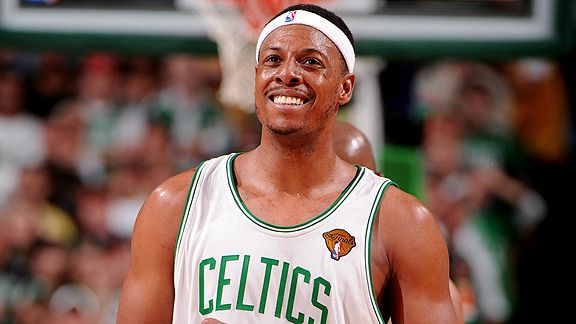 Andrew D. Bernstein/NBAE/Getty Images
Celtics Lead Series 3-2 as Kobe's 38 Not Enough
Paul Pierce said he needed to score more for the Celtics to win, he was right. "The Truth" led the C's with 27 points in the 92-86 victory over the Lakers. Kevin Garnett and Rajon Rondo each added 18 in the winning effort. Kobe Bryant was sensational for L.A., scoring 38 points in defeat. Game 6 from Los Angeles is Tuesday at 9pm EST on ABC and ESPN Radio.
LeBron James "100 percent" in Favor of Izzo Hiring
LeBron James fully supports the idea of Tom Izzo coaching the Cleveland Cavaliers. According to the Cleveland Plain-Dealer, a high-level team source says James would endorse the Cavs' hiring the Michigan State head coach. LeBron's endorsement may affect Izzo, who is still contemplating a six-year, $30 million offer to leave the Spartans and coach the Cavaliers. WLNS, a TV station in Lansing, MI, reports that Izzo wants to speak directly with LeBron. As of Sunday night, Izzo was still contemplating his decision.
Rookie phenom Stephen Strasburg struggled in his second-MLB start, sort of. Strasburg got the win, but took issue with the mound, not the opposition. Strasburg twice asked for mound repair during the Nationals 9-1 victory against Cleveland. The 21-year-old gave up just 2 hits in 5 and 1/3, including 8 Ks and is now 2-0 for the fourth-place Nationals.
Titans' Young Cited in Incident at Strip Club
Titans QB Vince Young was issued a misdemeanor-assault citation after getting into a fight in a Dallas strip club and leaving the scene before authorities arrived. The Titans have talked with Young and are gathering additional information. The Titans resume on-field sessions Monday.
Big 12 Exploring Methods of Survival
The Big 12 conference won't disappear without a fight. Conference commissioner Dan Beebe is trying to convince Texas - the key - and other schools that a 10-team model would still provide TV revenue. This according to a source familiar with Beebe's plan. Beebe is stressing the value of sharing revenue with fewer schools and collecting and distributing the departure penalties of Nebraska and Colorado.
MLB players are forgiving people, just ask umpire Jim Joyce. Joyce, whose botched call cost Armando Galarraga a perfect game is still highly regarded in the bigs. ESPN The Magazine conducted a poll of 100 players and found out that Joyce was regarded as the best umpire in the game. C.B. Bucknor was voted the worst umpire on 37% of the surveys, edging out Joe West's 35%.
Report: McNamee Says Non-Profit Paid for Training and PEDs
Roger Clemens' former trainer, Brian McNamee, told a grand injury investigating Clemens for perjury that Clemens sometimes paid for training services and performance-enhancing drugs with money from a charitable organization. This according to the New York Times. McNamee is said to have testified that he has no evidence to back up his claims concerning The Roger Clemens Foundation, which aids children's groups. Clemens's attorney, Rusty Hardin, again accused McNamee of lying.
U.S. goalie Tim Howard is hurting, but may still play Friday against Slovenia. A U.S. Soccer spokesman tells ESPN's Jeremy Schaap that Howard will get treatment Sunday night "then we will evaluate if there is a need for tests tomorrow." Howard collided with Emile Heskey of England Saturday, but finished the game after receiving a pain-killing injection.
UFC President: Liddell Won't Fight Again
It's the end of an era. Forty-year-old Chuck "The Iceman" Liddell won't fight again, according to UFC President Dana White. Liddell was knocked out in the first round of Saturday's UFC 115 bout against Rich "Ace" Franklin. The loss was the former light-heavyweight champion's third-straight defeat by knockout. Liddell hasn't made a formal announcement about his future.
Drew Lands First Head Coaching Job
It's official. The Atlanta Hawks announced the hiring of Larry Drew as their new head coach."I'm excited about the opportunity to become a head coach in this league, and I will do my very best to continue to build on what we've accomplished here in Atlanta," said Drew.