Celtics 92, Lakers 86 (Celtics lead series 3-2)
The Celtics become the first team to win consecutive games in this series, and as a result take their first lead of the Finals with a 92-86 win. The Celtics are 11-0 all-time when leading the NBA Finals 3-2 and are 34-1 all-time in all best-of-seven series - with the one loss coming to the Magic in last year's Conference Semifinals. Kobe Bryant became the second player in NBA history to score at least 600 points in 3 separate postseasons (other is Michael Jordan). Bryant finished with 38 points, his 78th career 30-point playoff game (2nd all-time) and 14th career 30-point NBA Finals game (3rd-most since the merger). Paul Pierce led Celtics with 27 points - his 5th 25-point game of these playoffs. The Celtics have scored less than 100 points in 10 straight home playoff games, tying an NBA record for a single postseason (joining the 1999 Knicks). The Lakers have now been held under 100 points in 4 straight games after scoring 100+ in their previous 11. So Good news, Celtics fans - in NBA history, teams that win Game 5 of NBA Finals series tied 2-2 have gone onto win 19 of the previous 25 such series.
Game Recap | Box Score | Forsberg: C's answer Kobe | McMenamin: D leaves Lakers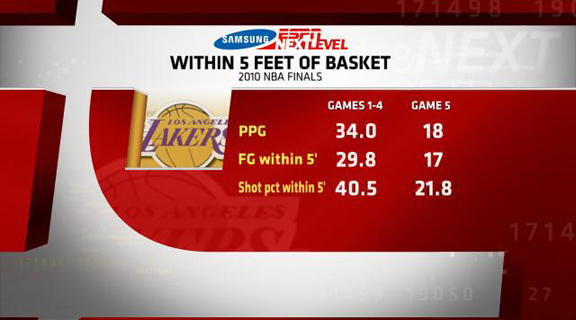 We take you Next Level and look at the shot-selection for Los Angeles. The Lakers were accustomed to taking a higher percentage of their field goals from inside of 5 feet. However, with an ailing Andrew Bynum, the Lakers weren't able to get inside. Only 17 FG attempts were taken within 5 feet on Sunday. In the first four games they averaged nearly 30 FG attempts inside of 5 feet.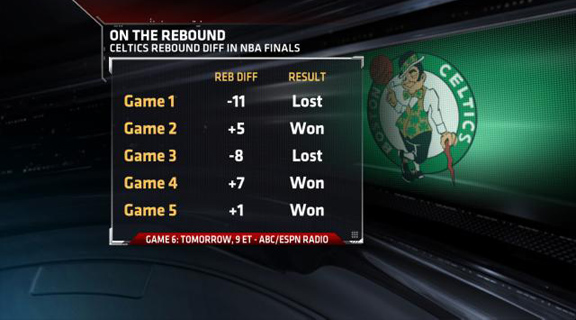 It's pretty simple for the Celtics - win the rebound battle, win the game. In Game 5, the Celtics had 35 rebounds while the Lakers came up just shy of that with 34. The 2 games the C's have lost in this series were games 1 & 3 in which they were out-rebounded.