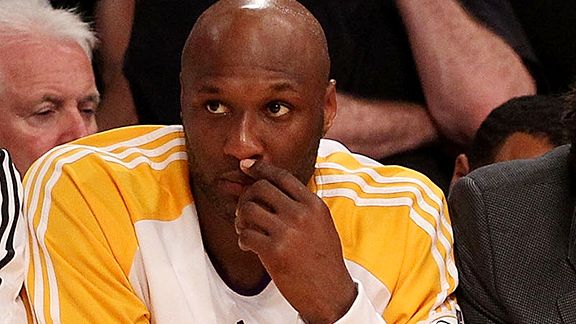 ODOM SUFFERING FLU-LIKE SYMPTOMS
Lamar Odom is coming off an 8 point, 8 rebound performance in Game 5 of the NBA finals. That was on Sunday, and he says that he's been battling flu-like symptoms since Saturday. "I'm not feeling good," he told the L.A. Times, "but I'm not making any excuses. I've just got to be ready to play." (Of course, Michael Jordan suffered flu-like symptoms in the NBA Finals once. And we all know how that turned out.) Game 6 is tonight at 9:00 ET on ABC.
More of what's happening At This Hour, including Marshawn Lynch ready for the Bills OTA, and why the Pacquiao-Mayweather superfight might be closer than you think, after the jump.
Marshawn Lynch is back in Buffalo and planning to attend the team's OTA today, a source who has spoken with the running back tells ESPN's Adam Schefter. Of course, Lynch was at the Bills facility last week but didn't attend Buffalo's practice sessions. If he does change course today, it would mark his first practice with new Bills head coach Chan Gailey, who earlier this month said he never had spoken with Lynch.
DE LA HOYA: "WE ARE VERY, VERY CLOSE"
Oscar De La Hoya, whose Golden Boy Promotions represents Floyd Mayweather Jr., told Spanish TV station Univision (in an interview translated by fight scribe John Chavez of boxingtruth.com) that the superfight between Floyd and Manny Pacquiao is nearly a done deal. "Up until now, it's been a very difficult negotiation process for various reasons but right now we're very close." He would not go into greater detail.