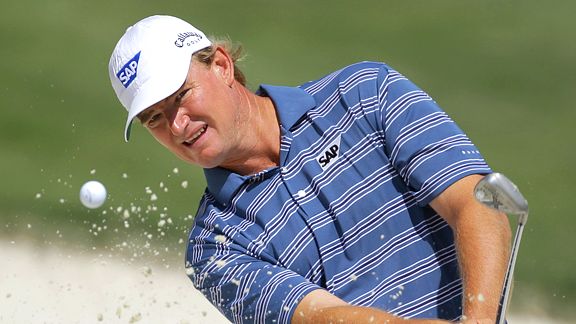 AP Photo/Chris O'Meara
Does South African golfer Ernie Els have a vuvuzela up his sleeve?
Good news for Angel Cabrera and K.J. Choi -- they'll have just enough time to watch the Argentina vs. South Korea game Thursday morning (7 a.m.) before teeing off at Pebble Beach at 10:44 a.m. In case you forgot, the 110th U.S. Open begins tomorrow morning, and for the first time since 2000, it will be played at Pebble Beach Golf Links. Yes, that's where Tiger Woods shot a U.S. Open record (-12). Yes, that's where he won by a grand slam record 15 strokes. And yes, he's scheduled to tee off tomorrow at 11:06 a.m.
Now, we'd be kidding ourselves to think the U.S. Open is gonna trump the World Cup in popularity, but that doesn't mean it shouldn't embrace the enthusiasm of the tournament. After all, both sports have global representation and global appeal. It seems like there's a perfect opportunity for everybody's favorite marketing term: synergy!
Group Play: Like the World Cup, why not group players together in foursomes based on countries of origin. After two rounds of play, the two players with the lowest scores in each foursome are eliminated. The top two players from each group advance to the knockout round and compete against the rest of the field for the U.S. Open title. Our vote for the Group of Death: Lee Westwood (England), Phil Mickelson (U.S.A.), Sergio Garcia (Spain) and Vijay Singh (Fiji).
Carding Players: If a player takes more than 10 seconds for a shot, he receives a yellow card. If he does it twice, he will be red carded and suspended from tourney play. This will bring an end to the never-ending golf waggle. Players should also be reprimanded for not replacing divots and for failing to take photos with fans in the gallery.
Vuvuzela > Claps: The golf clap has been mocked since the early 90's; just ask Charlie Sheen and Emilio Estevez. It's the polite way to applaud your favorite golfer, but it lacks the flavor of the oh-so controversial vuvuzela. The official noisemaker of the 2010 World Cup could be used in two ways during the U.S. Open: 1) Fans could use it to break a golfer's concentration as he approaches his shot 2) Fans could use it to cheer on their favorite golfer. We'd have to believe that the use of a vuvuzela would give South African golfer Ernie Els a major advantage but anytime you're attempting to make progress, it's never going to be a completely seamless process.
Celebrate Good Times: Tipping your cap after drilling a 30-foot putt is the honorable thing to do, but it won't send the crowd into a frenzy. Instead, we recommend golfers take a page out the futbol book and punch out their playing partner and nearby caddies. If neither the playing partner nor caddies will take part in the fun, the golfer has the option of going solo and performing the bull dance made famous by Happy Gilmore and perfected by Boo Weekley.
Penalty Chip Shots: Under the current format, if two or more players are tied at the end of four rounds at the U.S. Open, those golfers must play a fifth 18-hole round the following day. Let's be real -- nobody wants to wait until Monday to crown the U.S. Open champion. So, instead of playing a fifth round, the golfers tied for the lead partake in the PGA's version of penalty kicks: Each golfer chips from the fringe in a sudden death playoff. The first golfer to hit his shot, wins the tourney. No more anticlimactic finishes. The 2010 U.S. Open: one chip changes everything!