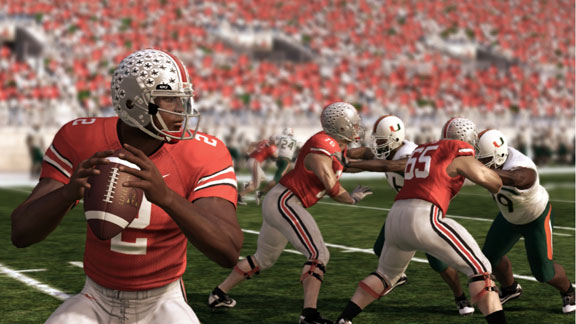 EA Sports
Come November you'll be able to switch from playing NCAA Football '11 to watching real NCAA football without having to reach for the "Input" button.
Xbox Live is getting an injection of the Worldwide Leader in Sports as the ESPN 3 is headed to Microsoft's console. The broadband service will allow users to watch more than 3,500 live sporting events a year as well as access the network's on-demand video clips. In addition, the Project Natal Kinect add-on technology will allow fans in different cities watch games at the same time while talking smack to each other (as if college dorm entertainment centers needed another excuse to keep the console turned on). Best of all, the service will be free for Xbox Live Gold members, in case they need to take a break from humiliating noobs in multiplayer deathmatches.
Those applications are just the tip of the iceberg. Here are a few more Xbox 360/ESPN collaborations we'd like to see:
1. Jim Rome Pun Battler - "Pun Battler? More like a Fun Rattler!" Let the Xbox Live community know you can make a knee-slapping play on words with any sports topic. Also comes bundled with the Woody Paige slate-writing mini-game.
2. Gears of Score - Guide Jay Harris and his pals across a nation of news-starved zombies mutants fans using an intricate cover system. Only the best highlights will survive.
3. Monster Story Hunter: PTI - Stalk the wilds of a fantasy world looking for topics to shout down with the help of Tony Kornheiser and Mike Wilbon.
4. Todd McShay NFL Draft Simulator - Sure it's not exactly the fancy multiple-point touch screen interface like the real deal, but you'll never have more fun sliding picks around a board.
5. Brian Kenny Boxing - Live from Bristol into your home, can you defeat the disciple of Floyd Mayweather in air-knuckle Kinect brawling?