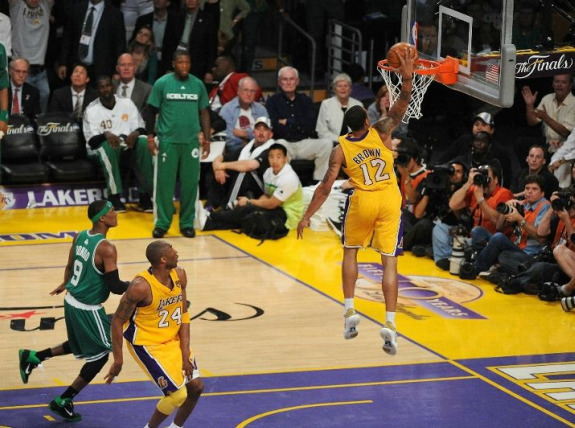 Lisa Blumenfeld/Getty Images
Lakers Crush Celtics, Force Game 7
The Lakers had their backs against the wall and played like it Tuesday night, beating the Celtics 89-67. Kobe Bryant got some much-needed help from the LA bench which outscored Boston's 25-13. Pau Gasol won the battle inside, scoring 17 points, grabbing 13 rebounds, and dishing out 9 assists. The win forces a decisive Game 7, Thursday at 9pm ET on ABC.
Tom Izzo turned down the Cavaliers offer Monday and will remain head coach at Michigan State. Izzo held a meeting with his team Tuesday night to tell them the news. Izzo is the all-time winningest coach in school history. In 15 seasons in East Lansing, he's elevated the Spartans program to elite status, winning a National Championship (2000) and appearing in six Final Fours.
After the jump: Utah to Pac-10?, Mayweather vs. Pacquiao On again?, USC Junior Transfers, Big 12 aided by FSN, ESPN, Chris Johnson still unhappy, Avery Johnson introduced in NJ, and Steve Kerr leaves the Suns.
Despite most of the Big 12 teams declining, the Pac-10 is still looking to expand. According to Comcast SportsNet, Pac-10 officials extended an offer to Utah Tuesday night to become the 12th team in the conference. The Utes' football team went 10-3 overall and 6-2 in the MWC last season. They went on to beat Cal in the Poinsettia Bowl 37-27.
De la Hoya: "We are very, very close" to mega-bout
Oscar De La Hoya, whose Golden Boy Promotions represents Floyd Mayweather Jr., said Tuesday that the mega-bout between Mayweather and Manny Pacquiao is nearly a done deal. "Up until now, it's been a very difficult negotiation process for various reasons but right now we're very close."
Jordan Campbell First Defector From USC Football
USC Trojans redshirt junior linebacker Jordan Campbell became the first player to take advantage of an NCAA-regulated free-transfer policy for juniors and seniors . The former high school All-American struggled to find playing time at USC during his three-year career. Campbell ended spring practice not officially on USC's roster due to a violation of head coach Lane Kiffin's newly-instituted "zero-tolerance" policy.
The Big 12 was able to stay in tact thanks, in part, to Fox Sports Network and ESPN. FSN promised to extend its media deal with the conference while ESPN agreed not to demand lower rights fees with two less teams in the conference. Now down to 10 teams, the Big 12 could petition for a football championship game, but Big 12 commissioner Dan Beebe isn't sure the league will do that.
Chris Johnson Still Not At Titans Camp
Chris Johnson still hasn't attended a Titans workout this offseason as he campaigns for a new contract. Titans GM Mike Reinfeldt said he's had discussions with Johnson's agent but no negotiations have taken place. The All-Pro RB tweeted Tuesday: "Just got off the phone with my agent, and it's not good news. I'm feeling like Darrelle Revis right now. At least they're offering him something. They (the Titans) are not offering me nothing."
Nets Introduce Their New Coach
Avery Johnson was introduced today as the new coach of the New Jersey Nets. Johnson boldly predicted that the Nets have the potential to go from the NBA's worst team to the best. Johnson didn't lay out a time line for turning around a team that won a league-low 12 games last season, but he insisted the "sky is the limit."
Report: Steve Kerr Will Not Return To Suns
Steve Kerr will not be the Phoenix Suns president of basketball operations and GM next season. Suns managing partner Robert Sarver said an opportunity to return to television as an NBA commentator prompted Kerr to leave the organization after three years with the team. A source told ESPN The Magazine's Ric Bucher that the move has to do with Kerr feeling unable to adequately do the job with the financial limitations imposed by Sarver.