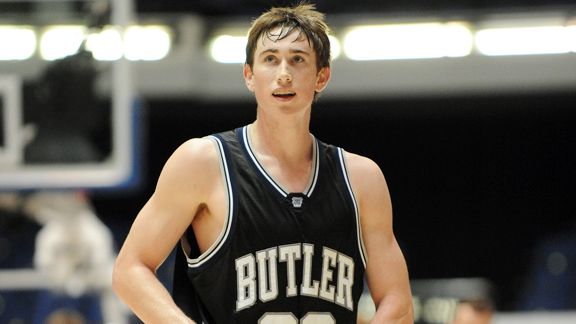 Chris Williams/Icon SMI
Could an innocent-looking young man like Gordon Hayward be part of such a dastardly plot?
It was midnight on Tuesday, June 15th. We were working a double and brewing some fresh coffee when we heard the news. The Memphis Grizzlies were set to hold their fifth predraft workout, but like all their other workouts, they forgot the main ingredient -- the draft prospects. This time around it was Texas guard Avery Bradley skipping out, citing an ankle injury. Coincidentally, Fresno State small forward Paul George was also injured prior to his Memphis workout Sunday and was forced to pull out at the last minute. Something wasn't adding up.
The deeper we dug, the more confused we became. Bradley and George weren't the only prospects playing hooky from the Grizzlies facility; Gordon Hayward, Ekpe Udoh, Eric Bledsoe and Memphis University's Elliot Williams were also part of this elaborate scheme to avoid the Grizzlies workouts. Was their avoidance by choice, or were they simply following orders from an evil mastermind? The plot thickens ...
We examined last year's predraft workouts and shockingly found the same results -- more prospects skipping out on the Griz. In 2009, it was Ricky Rubio, Stephen Curry and Jonny Flynn refusing invitations to participate in Memphis -- now we were positive they were just pawns in a vicious plot against Memphis. But who would organize such a thing? Here are our prime suspects and their motives:
Pau Gasol (Los Angeles Lakers): In 2008, Marc Gasol was traded from L.A. to Memphis as part of a package that brought his brother, Pau, to the Lakers. After reaching the NBA Finals in each of his first three seasons with L.A., one would think Pau must be feeling pretty guilty for his brother's departure to Memphis. But does he feel guilty enough to sabotage Memphis' future in hopes that the Grizzlies might trade Marc back to the Lakers and reunite these long lost brothers? This theory seems dubious at best.
Roberto Luongo (Captain of the Vancouver Canucks): Once upon a time the Grizzlies played in a land called Vancouver. But after a lack of fan support, they were forced to move to Memphis in 2001. Of course, Luongo didn't get to Vancouver until 2006, but as team captain of Vancouver's only major professional team, the weight of the world is on his shoulders. Luongo's motive: poison the minds of prospective ballers in hopes Memphis' fan support drops once again and the club is forced to move back to Vancouver, removing the onus from Luongo of being the only man in V-Town. Again, this theory seems tenuous at best.
Jerry West: In case you forgot, Mr. NBA Logo was the GM of the Grizzlies from 2002-2007. He's been retired for three years now, but it's certainly possible he's getting the itch to manage the franchise again. If players continue to bow out from Grizzlies workouts, West would be able to flex his muscles, claiming, "players never did that when I ran the team." Hmm. Now we're dipping our toes into Lake Plausible.
Andy Azula (The UPS Guy): You're all thinking, "What could Andy Azula have to do with his?" Well, a lot actually. Since 2004, the Grizzlies have called FedExForum their home. UPS and FedEx are major competitors. You see can see where this is going. It would look pretty good for UPS if the FedEx-sponsored franchise couldn't deliver a top-tier talent to its fans and it all starts with the draft. Is Andy Azula UPS's hired gun? This lead definitely feels like it's worth investigating further.
If you have any leads or plausible theories, please let us know.