Phillies 6, Yankees 3
47-year-old Jamie Moyer becomes the oldest pitcher to beat the Yankees, as he allows just 3 hits (2 of them solo HR) over 8 IP. He has now allowed 504 career HR, which is one shy of Robin Roberts' MLB record. In the third inning, both Ryan Howard and Jayson Werth hit their 11th home-run of the season. It's the 1st time this season the Phillies hit back-to-back HR's. Robinson Cano homered for the 2nd time in his last 3 games. The Yankees 4-game win streak is snapped, while Phillies pick up their 5th win in last 15 games.
Game Recap | Box Score | Jeter on Moyer: He can pitch another 10 years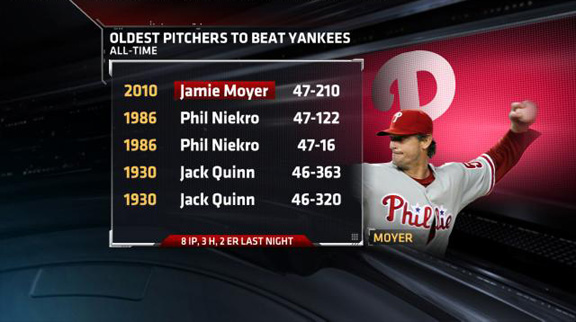 At 47 years and 210 days old, Jamie Moyer becomes the oldest pitcher ever to defeat the Yankees. The oldest previous pitcher to defeat the Yanks was Phil Niekro, who did it twice at the age of 47 in 1986.