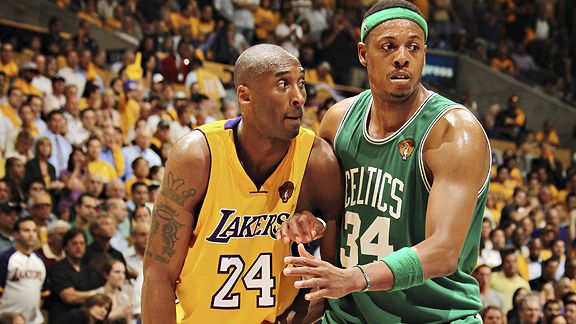 Nathaniel S Butler/Getty Images
Boston Celtics at Los Angeles Lakers -- Game 7 -- (Series tied at 3)
9:00 PM ET -- STAPLES Center, Los Angeles, CA -- ABC, ESPN Radio
It doesn't get any bigger or better than this, the 17th Game 7 in NBA Finals history. The home teams are 13-3. This is the fifth time the Celtics and Lakers have met in Game 7 of a championship series, setting a record for the highest total for any two teams in the NBA, NHL and MLB. The Celtics are 7-0 all-time in NBA Finals Game 7s, including 4-0 against the Lakers. All-stars rise to the occasions in big games. Celtics all-star Paul Pierce says he loves the pressure of tonight's Game 7 and welcomes the challenge of winning multiple titles as a Celtic. Kobe Bryant, who leads the series in scoring (29.5 ppg), can add to his legacy tonight. Bryant is known as one of the games' best closers, and looks to close out the NBA season with a series-clinching performance. Phil Jackson's coaching legacy is also worth mentioning. If the Lakers win, Jackson would have as many NBA titles (11) as 23 current NBA franchises COMBINED. Celtics big man Kendrick Perkins won't play tonight after spraining the MCL and PCL in his right knee during Tuesday's Game 6 loss, 89-67. Meanwhile, despite battling a torn meniscus in his right knee, Lakers center Andrew Bynum says he will play tonight, and believes his team is "guaranteed to win".
Celtics With Kendrick Perkins On and Off the Court
2010 NBA Finals On Court/Off Court
Minutes 141/147
Net pts -5/-15
Pts Diff. per 48 min -1.7/-4.9
Game Preview: BOS vs LAL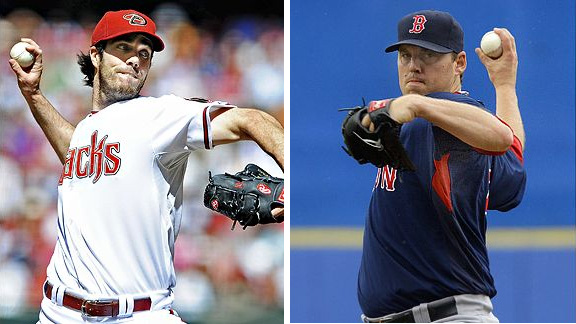 US Presswire/Getty Images, AP Photo
Arizona Diamondbacks (26-40) at Boston Red Sox (39-28)
6:10 PM ET -- Fenway Park, Boston, Massachusetts
Starting Pitchers
Arizona: Dan Haren (7-4, 4.61 ERA)
Boston: John Lackey (7-3, 4.54 ERA)
This game was originally scheduled for a 7:10 pm ET start, but the game was moved up an hour so Boston fans could enjoy both the Red Sox and the Celtics games. When the teams do take the field, a pitcher's duel is likely to break out. Much was made about Dan Haren's early season struggles, but since the calendar flipped to June, he's starting to find his groove. The same can't be said for his team's success. Arizona has lost 12-straight road games, the longest losing skid in team history. The Diamondbacks are tied with Pittsburgh for the fewest road wins in the Majors (9). Boston hands the ball to John Lackey as it looks for its fifth win in six games following the 6-2 victory over Arizona on Wednesday. The Red Sox are three games behind division co-leaders New York and Tampa Bay.
Game Preview: ARI vs BOS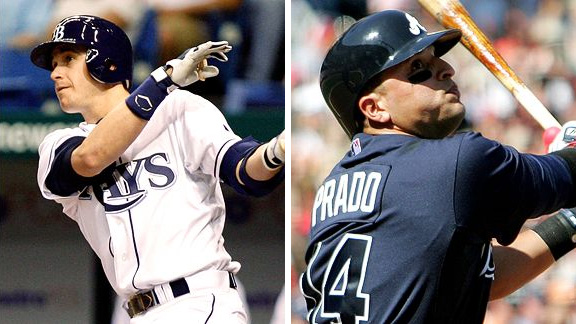 US Presswire/AP Photo/Eric Risberg
Tampa Bay Rays (41-24) at Atlanta Braves (38-28)
7:10 PM ET -- Turner Field, Atlanta, Georgia
Starting Pitchers
Tampa Bay: James Shields (5-5, 4.55 ERA)
Atlanta: Tim Hudson (6-2, 2.43 ERA)
Tim Hudson takes the ball for the NL-East leading Braves tonight against the Rays. Hudson, who can help the Braves earn their fourth-straight series win at Turner Field, has been great as of late. The right-hander has a 1.74 ERA while winning his last three starts at home. Hudson won't have to do it alone as the Braves' bats are hot, including Martin Prado's. Prado leads the majors with 13 three-hit games this season, and is 11 for 19 in his last four games. Prado is tied for the major league lead with 95 hits and second in the NL with a .338 average. Rays thrower James Shields will try to shut down the Braves, avoiding his fifth-straight loss. Something is sure to give tonight though, as the Rays are a major league-best 23-9 on the road, but the Braves have won 10 of 11 at Turner Field. Evan Longoria leads the Rays with a .316 avg and 51 RBIs.
Game Preview: TB vs ATL
Note: The Elias Sports Bureau and ESPN Stats and Information group contributed to this report.