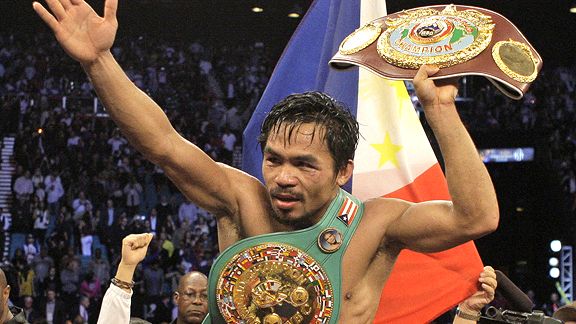 Photo: AP Photo/Jae C. Hong
Manny wonders what size belt he would get for winning a congressional seat
Manny Pacquiao is running for congress again, having submitted his candidacy for the 2010 Philippine elections today. The champ ran back in 2007 and was defeated.
We know the Philippines is a little different from the US, but politics is politics, right? With that in mind, we thought we'd take a look at some athletes who've made the transition successfully and see what we could learn from their candidacies.
Bill Bradley
Former U.S. Senator and Hall of Fame Basketball Player
- Find a pose that works for you and make sure you strike it whenever photographers are near. Senator Bradley was obviously partial to the jacket over the shoulder look, but that is by no means the only way to go.
- Be an Ivy League Rhodes Scholar.
Jesse Ventura
Former Governor of Minnesota and Professional Wrestler
- Don't be afraid to tell them what's on your mind. Loudly, if necessary. While wearing spandex.
- Flex those guns as much as possible.
- Have an awesome haircut.
Steve Largent
Former U.S. Representative and Hall of Fame Football Player
- Have a trusted confidant who will compliment you incessantly.
- If he doesn't compliment you to your liking, tell him how to compliment you.
- Wear matching shirts whenever you appear in public together.