The Lakers win their 2nd consecutive NBA title and their 16th overall, which is 2nd all-time to the Celtics (17). The Lakers improve to 14-1 all-time home Game 7s and hand the Celtics their first loss in an NBA Finals Game 7 as Boston falls to 7-1 in such games. In the 5th all-time Game 7 between the franchises, the Lakers pick up their 1st win.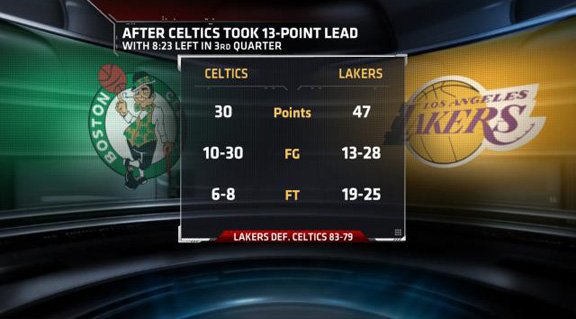 The Celtics took a 13-point lead with 8:23 seconds left in the 3rd quarter but were outscored by 17 down the stretch. L.A. took 17 more free throws in the last 20-plus minutes and Boston allowed L.A. to shoot 46 percent in the last 20 minutes after holding them to 25 percent to start the game.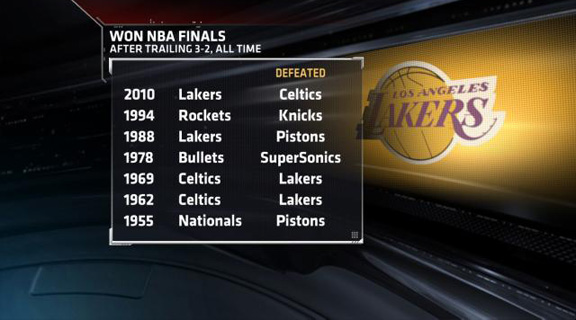 The Lakers win in 7, the first NBA Finals to go the distance since 2005. The Lakers are just the 7th team to win the finals after trailing 3 games to 2, and the first since the 1994 Rockets.
Kobe Bryant shoots 6-24 FG in the Lakers win, but leads the team with a game-high 23 points and earns his 2nd consecutive NBA Finals MVP. He joins Michael Jordan, Hakeem Olajuwon, and Shaquille O'Neal as the only players to win consecutive NBA Finals MVP awards since the award was introduced in 1969. Bryant's 25.0 pct FG shooting was the 3rd-worst shooting performance ever in an NBA Finals Game 7 by a player with at least 20 FGA.