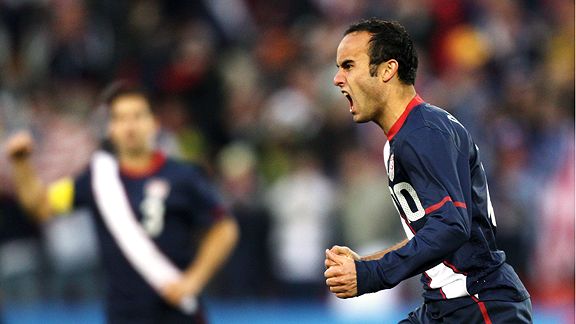 Ryan Pierse/FIFA/Getty Images
The U.S. soccer team played Slovenia to a disputed, 2-2, tie. The Americans' apparent go-ahead goal by Maurice Edu in the 86th minute was disallowed by referee Koman Couilibaly of Mali because of an uncertain foul. A FIFA source told Yahoo! Sports the referee who disallowed the U.S. goal will face an expedited performance review from FIFA and will likely be excluded from the rest of the World Cup. The Americans can advance to the next round with a win vs Algeria ... 10:00 AM ET Wednesday, on ESPN, ESPN3.com and MobileTV.
Lefty is Surging at Pebble Beach
Phil Mickelson shot a tournament-best 66, joining a shrinking group of five players who have beaten par over two days at the U.S. Open at Pebble Beach. Graeme McDowell of Northern Ireland set the early pace Friday with a 3-under 68 to take a two-shot lead into the weekend. Tiger Woods shot a 1-over 72, leaving him seven shots behind.
Strasburg Makes History as Nationals Lose to White Sox
In just his third start, Nationals' rookie Stephen Strasburg made history. Strasburg set a strikeout record in front of President Barack Obama -- but left the game before White Sox won it in the 11th, 2-1. Strasburg's 10 strike-outs gives him 32 in three games, the most ever by a pitcher after his first three starts since 1900. The rookie-phenom lasted 7 innings, allowing 4 hits and 1 ER in the no decision. Strasburg's ERA is 1.86.
Big Papi spoils Manny's Return to Boston
Manny Ramirez returned to Fenway Park Friday, hearing cheers and jeers, in a losing effort. Ramirez returned to Boston for the first time since being traded to the Los Angeles Dodgers in 2008. Manny went 1-for-5 as DH and was outdone by former teammate David Ortiz. Big Papi hit his 274th homer for Boston, tying Ramirez for fifth on the franchise's all-time list, leading the Red Sox to a 10-6 victory over the Dodgers.
Source: NFLPA Workers Sought in Federal Probe
The NFL Players Association has been advised that federal authorities are preparing to interview employees during an investigation into whether former union leaders attempted to conspire with the NFL, a person familiar with an e-mail sent to union staff has told The Associated Press. The meetings are alleged to have occurred before current union chief DeMaurice Smith began as executive director in March 2009.
West Believes Kobe Better Than Magic
Kobe Bryant is the greatest Laker of all time, according to former Laker Jerry West. Appearing on "97.5 The Fanatic ESPN Radio in Philadelphia", West said "He's the greatest Lakers talent... As great as Magic Johnson was, Kobe is I think a step ahead of him."
Allen Iverson is working on a comeback. Iverson's personal manager, Gary Moore, said that Iverson is planning a return to the NBA next season. Iverson returned to the Philadelphia 76ers in December and took a leave of absence in March because of an undisclosed illness of his 4-year-old daughter, Messiah.
Cavs Talk to Jason Kidd and Chris Paul About Byron Scott
With Tom Izzo out, Byron Scott appears to be the frontrunner for the Cleveland Cavaliers' coaching vacancy. With that, Yahoo! Sports reports that team executives have reached out to two of LeBron James' friends - Chris Paul and Jason Kidd - who have both played for Scott. The Cavs also had every one of the Nets' 2002 and '03 playoff games, including the Finals, sent to them for review, a source said.
Chris Bosh is considering the Knicks as a destination ... with or without fellow free agent LeBron James. Bosh told Sportschannel New York that he would take playing with LeBron into consideration, but "At the same time, I can't just sit around and wait. I have to be proactive with my choices and what's gonna make me happy," Bosh said.
Sharks Captain Calls it a Career
San Jose Sharks captain Rob Blake retired after a 20-year career as one of the league's top defensemen. Blake announced his decision Friday in San Jose. The 40-year-old Blake won a Stanley Cup with Colorado in 2001, the Norris Trophy as the league's top defenseman for Los Angeles in 1998, and an Olympic gold medal with Canada in 2002.