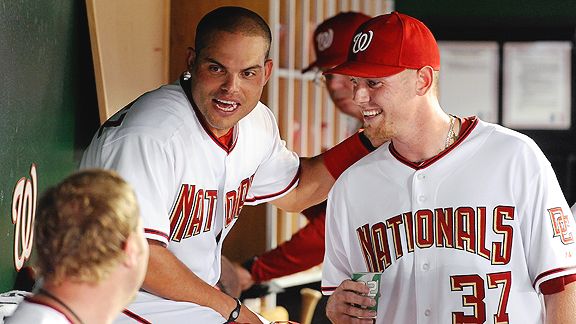 Greg Fiume/Getty Images
"Hey guys, this is Stephen. When I was his age I already had two years in the Majors. What took him so long, right?"
June 20, 1991: Ivan Rodriguez was having a very good day. He'd just gotten married to his fiance Maribel and was about to make history without having so much as to take a swing as Texas visited the White Sox at Comiskey Park. The honeymoon would have to wait as "Pudge" became youngest player to catch a Major League game at 19 years, 7 months of age after his promotion from AA Tulsa.
When the Rangers signed the 5' 9" native of Manati, Puerto Rico from Lino Padron Rivera High School they were impressed with his arm and poise. What they didn't realize was that they'd just acquired one of the most durable and well-rounded backstops in the game.
Rodriguez went 1-4 with 2 RBI in his debut as the Rangers won 7-3. His hit was part of a crucial five-run rally that put Texas ahead at the top of the 9th. Pudge also threw out two would-be White Sox base-stealers, a sign of things to come. He would go on to place fourth in Rookie of the Year voting while catching a gaudy 48.6 percent of runners attempting to run on his laser arm.
After that first game, Ivan would go on to catch the most contests in baseball history, tying Carlton Fisk on June 17th, 2009 (his 2,226th turn behind home plate). He's still active with the Washington Nationals, 19 years to the day of his debut.