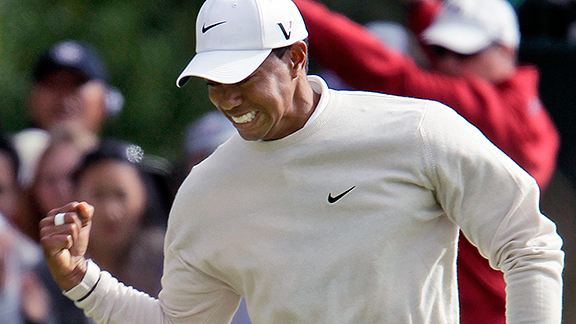 AP Photo/Eric Risberg
Tiger on the Charge at Pebble Beach
Tiger Woods bogeyed two of his first three holes Saturday, and then was spectacular. Woods shot a third-round 66, moving him to 1-under-par, five shots behind leader Dustin Johnson. Phil Mickelson ended the day in sixth place at 1-over-par.
Former NBA player Manute Bol died Saturday morning at the age of 47. The tallest player in NBA history, at 7'7, battled kidney failure and a skin disease known as Stevens-Johnsons Syndrome. His job was playing in the NBA but his passion was helping his native country, Sudan. Bol lost hundreds of family members in an ongoing war, but saved or educated at least that many with his peacemaking efforts.
Report: Referee Rated Poorly in Review
The controversial foul called on American Maurice Edu in the 2-2 tie against Slovenia is still being talked about. However, FIFA will not address the performance of referee Koman Coulibaly before Monday, a spokesman has said. Coulibaly was given a poor rating in an expedited performance review Saturday, according to a Yahoo! Sports report, which cited an unnamed FIFA source.
Source: Redskins, Saints Agree on Brown Trade
The New Orleans Saints traded Pro Bowl offensive tackle Jammal Brown to the Washington Redskins Saturday. Washington will now be without its third- and fourth-round draft picks in 2011, but it will also get back a later pick from New Orleans. Brown could be the solution at right tackle for the Redskins, who are rebuilding the line under new coach Mike Shanahan after last year's 4-12 season.
Seymour Signs Franchise Deal with Raiders
Defensive tackle Richard Seymour is sticking with the Raiders. The team announced Saturday Seymour had signed his $12.4 million exclusive-rights franchise-tag tender. Seymour had four sacks in 15 games last season after being traded to Oakland from New England.
OSU Buckeyes Recruit Shot, in Critical Condition
Police say Jamel Turner, an Ohio State football recruit, is in critical condition and a 17-year-old girl is dead after both were shot multiple times early Saturday morning in Youngstown, OH. Turner, a defensive end who played high school ball at Ursuline High School in his native Youngstown, signed with the Buckeyes in February.
LeBron Makes Quick Work of Ohio Rally
Thousands of fans turned out in Akron, OH Saturday for "LeBron Appreciation Day". Besides trying to convince LeBron to sign with the Cavaliers, fans enjoyed a band, dancing and very late in the day, an appearance by LeBron himself. "Akron is my home, it's my life. Everything I do is for this city. I'm going to continue to do great things. I love every last one of you all," said James.
Lakers, Celtics Finals Draws Huge Ratings
The 2010 NBA Finals Game 7 matchup between the Lakers and the Celtics drew the highest ratings of any Finals game since 1998. It earned an 18.2 overnight rating (18.8 million viewers), beating the only other Game 7 during that stretch, Spurs vs. Pistons in 2005, by 32%.
Utes Will Have to Wait for Pac-10 Compensation
The Utah Utes will join Pac-10 play during the 2011-12 school year, but commissioner Larry Scott said they won't receive a full share of conference revenues until 2014-15. Colorado, which decided last week to join the Pac-10 from the Big 12, will begin receiving a full share in 2012-13.