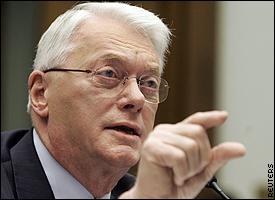 "The day I threw my perfect game, the ball felt this small."
June 21, 1964: There have been 20 perfect games pitched in MLB history, but only one of them happened on Father's Day. The man who pitched it: Jim Bunning.
A crowd of 32,026 filled Shea Stadium to watch a doubleheader between the Mets and Phillies, but Game 1 only lasted 2:19 thanks to Bunning's masterful work. The Mets hit only four balls into the outfield off Bunning, who went to three balls on just two batters. Of the 27 batters faced, Bunning struck out 10 of them and needed only 90 pitches complete the perfecto. Only David Cone (88) and Addie Joss (77) threw a perfect game with fewer pitches. Perfect games may seem common by 2010 standards as we've already seen 2 and a half of them this year (sorry, Armando), but Bunning's perfect game was the first in the regular season in 42 years.
According to legend, Bunning purposely broke every perfect game superstition throughout the day: he talked to teammates in the dugout, he counted down the outs, and during the ninth inning he called catcher Gus Triandos to the mound to tell him a joke just to get a breather.
Bunning is the father of nine children, a baseball Hall of Fame inductee, a United States Senator from Kentucky and the only man in the history of Earth to pitch a perfect game on Father's Day.