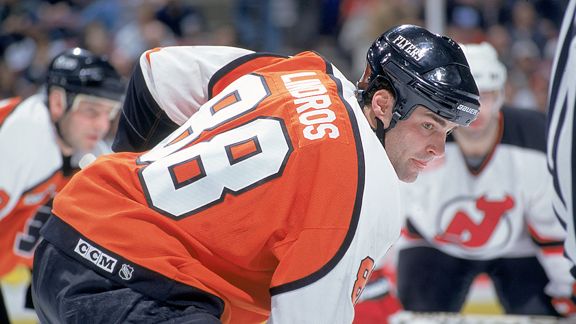 David Leeds /Getty Images
The Nordiques never got their man but they did eventually parlay him into some serious hardware.
June 22, 1991: With the first overall pick in the 1991 NHL Entry Draft from the Memorial Auditorium is Buffalo, New York, the Quebec Nordiques selected Eric Lindros. But things really got interesting.
Lindros, the Canadian hockey prodigy dubbed "The Next One," had let it be known before the draft that he had no intentions of ever playing in Quebec. First, there was the distance. Second, there was the lack of marketing potential. Third, Lindros didn't want to speak French. The Nordiques, for their part, weren't deterred.
Quebec selected Lindros with the top pick anyway, and he decided to place his NHL career on hold rather than sign with the team. The following year, under pressure from the league, the Nordiques finally traded their disgruntled draftee to the Philadelphia Flyers. In exchange, the Flyers sent six players including Peter Forsberg, two first round picks, and $15,000,000 cash to Quebec.
The Nordiques relocated to Colorado before the 1995 season and built a powerhouse around the players that they acquired in the Lindros trade, winning two Stanley Cups and eight division titles over the next eight years. Unfortunately, things didn't work out so well for either the Flyers or Lindros, who parted ways in 2001 after a tumultuous run and zero Stanley Cups together.
Lindros officially retired on November 8, 2007, bringing an end to his concussion-plagued NHL career that never quite lived up to its lofty expectations.