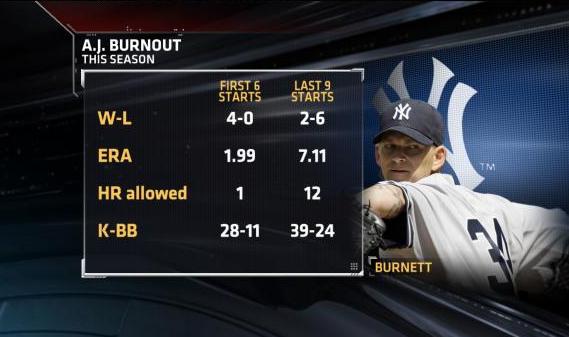 Burnett Rocked: The Diamondbacks hit three home runs in a five-run first inning against the Yankees A.J. Burnett yesterday ending in a 10-4 rout of the defending World Series champs. Burnett lasted just four innings, giving up 7 runs, falling to 2 and 6 in his last nine starts after beginning the season winning his first four decisions with an ERA under 2. During the slide, Burnett has been lit up ... 7.11 ERA and 12 home runs allowed. Ouch.
After the jump, what Steve Smith, and his broken arm, means to the Panthers, stats on NBA free agents not named LeBron, and numbers on Federer and his 5 set performances.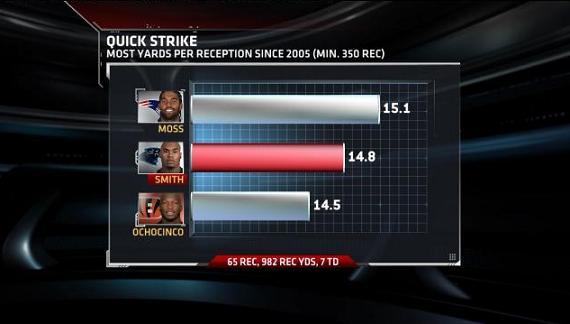 Come Back Soon: Panthers WR Steve Smith will miss the start of training camp with a broken left forearm. Smith was injured Sunday while playing in a flag football game. It's an activity that could violate the terms of his contract, although Smith is expected back before the start of the regular season and may avoid serious punishment by the team. Smith is one of the biggest deep threats in football. Since 2005, of players to catch at least 350 passes, Smith's 14.8 yards per reception trails only Randy Moss - who has averaged 15.1 yards per catch.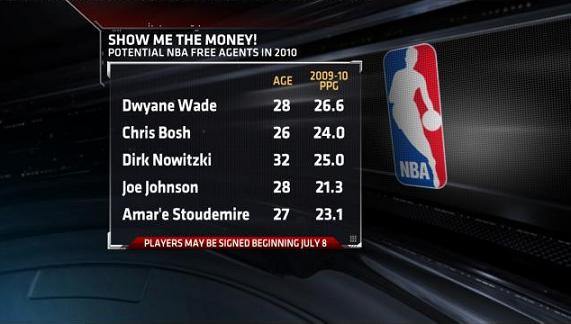 Almost Time: Just about 2 weeks before NBA free agents can start signing. And after LeBron James, there's plenty of top-notch talent available for the highest bidders. Dwyane Wade averaged 26.6 points per game last season. Chris Bosh, just 26 years old, has averaged over 22 points per game in each of the last 5 seasons. Joe Johnson and Amar'e Stoudemire are also available.
Whew! Men's top seed and defending champion Roger Federer says he "definitely got very lucky," in overcoming 60th-ranked Alejandro Falla 5-7, 4-6, 6-4, 7-6, 6-0 in yesterday's tournament opener on Centre Court. Falla had lost all 11 sets in his previous four matches against Federer. It's Federer's 6th career win coming back from 2 sets to none and his first at Wimbledon. It's only the 4th time he has been pushed to 5 sets at Wimbledon before the final. The last time ... 2001 in the round of 16, when he defeated Pete Sampras.