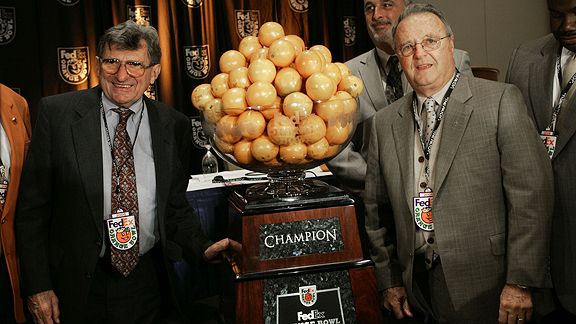 Photo: AP Photo/J. Pat Carter
I can't believe that after all of these years, nobody ever told me there was actually a bowl of oranges.
Legendary FSU coach Bobby Bowden will retire at the end of this season, his 34th with the Seminoles and 44th overall.
The 80 year-old coach – who will go out as the second winningest major college football coach (behind JoePa) - ends a career that is chock full of big milestones and special moments, including his two national titles with Florida State (1993 and 1999), 14 straight seasons finishing with a top-five ranking, and a 315-97-4 career record with the Seminoles.
But there are other moments that the public may have missed or forgotten. Here's a look at some of Bowden's career achievements that remain under the radar:
We're all going to miss Bowden's wide-brimmed hats, but many don't realize that his fashion forward approach to coaching wasn't limited to headgear. For instance, check out Bowden's outfit in this sweet clip from 1977 where he recaps his first season at FSU. Hey coach, Evel Knievel called, and he says you're all right with him.
Bowden helped produce great careers for his players at FSU, including Heisman Trophy winners Chris Weinke and Charlie Ward, Rhodes Scholar Myron Rolle, and Prime Time himself, Neon Deion Sanders. Just imagine the artistic void in our society had "Must Be The Money" never been made.
His ability to provide great one-liners to reporters is well-documented, but to really appreciate Bowden's mastery of the language, check out this story of his from the 2006 College Hall of Fame Banquet where he tells the story what happened when his wife convinced him their hotel room was bugged.
No question, Coach Bowden will be missed.