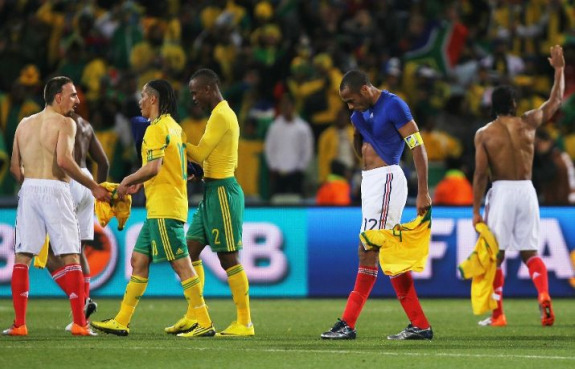 Clive Rose/Getty Images
France Eliminated From Disappointing World Cup
After an embarrassing showing, France was eliminated from the 2010 FIFA World Cup Tuesday, losing to South Africa 2-1. After all the turmoil surrounding the team, head coach Raymond Domenech made six changes to his team's starting lineup. It wasn't enough to change their fate as two first-half goals from South Africa held up giving the host nation its only win of the tournament.
Niedermayer Retires After 18 Seasons
One of the most accomplished players in the NHL called it a career Tuesday. Scott Niedermayer, most notably of the New Jersey Devils, retired Monday after 18 seasons in the NHL. Niedermayer won four Stanley Cups, two Olympic gold medals, a Conn Smythe trophy (playoff MVP) and appeared in 1,465 career games (playoffs included).
Defending champion Serena Williams easily won her opening match at Wimbledon today -- remaining unbeaten in first-round Grand Slam play. Williams had 15 aces to beat 17-year-old Michelle Larcher de Brito 6-0, 6-4. She has won 58 of her past 59 matches against players ranked outside the top 100.
After the Jump: More Trouble for Albert Haynesworth, Tyrus Thomas Likes Charlotte, Blue Jays Cut Encarnacion, Jozy Altidore Sick, and Oregon's Masoli Declares for NFL
Jozy Altidore missed the final practice today as the U.S. prepares to close out group play tomorrow vs. Algeria. Team spokesman Michael Kammarman says it's a stomach ailment but Altidore is expected to be fine come game time. If the U.S. wins, they move on to the round of 16.
Clayton Bank & Trust in Knoxville, TN, claims Albert Haynesworth has failed to make payments on a $2.38 million loan. They filed a lawsuit last week in Knox County Chancery Court alleging that the bank made the commercial loan in June of 2009. The parties then entered into an extension agreement, but Haynesworth failed to make payments in accordance with that agreement.
Impending free agent Tyrus Thomas has made it clear, he wants to stay in Charlotte. Thomas says he "definitely" wants to remain with the Bobcats after being acquired in a February trade from Chicago. The 6-foot-10 Thomas averaged 10.1 points and 6.1 rebounds in 25 games with the Bobcats last season.
Blue Jays Designate Encarnacion for Assignment
The Toronto Blue Jays have cut 3B Edwin Encarnacion less than a year after re-signing him. Toronto designated Encarnacion for assignment Tuesday after he hit .200 with 9 home runs in the 1st half of the season. The Jays acquired the third baseman last season in the trade that sent Scott Rolen (.299, 15 HR, 46 RBI this season) to the Reds.
After being kicked out of Oregon for repeated off-the-field incidents, embattled QB Jeremiah Masoli has decided give the NFL a try. Masoli said Tuesday he would be available to NFL team's at the Supplemental Draft taking place on July 15th. Any team that selects Masoli would give up their pick in the same round of next year's draft.