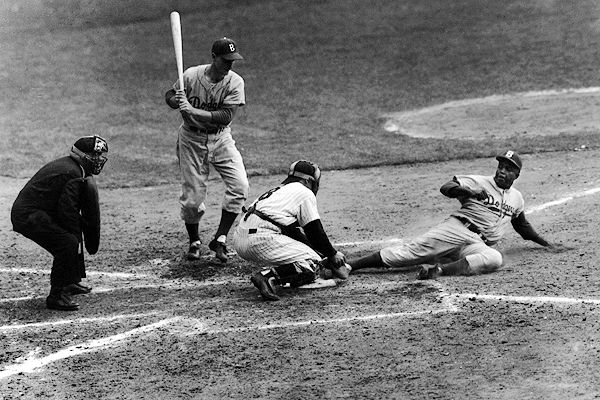 AP Photo/John Rooney
Jackie is safe at home.
June 24, 1947: Jackie Robinson takes a large lead off of third base, waits for the Pirates' Fritz Ostermueller to take the full windup and breaks for home, scoring underneath the tag of Dixie Howell. It would be the first stolen base in his ten-year career.
Number 42 stole home 19 times over the length of his ten-year career playing for the Brooklyn Dodgers, good enough to tie for 9th all-time along with Frankie Frisch (who spent the first part of his career with the crosstown rival New York Giants).
Robinson was a Rookie of the Year, Most Valuable Player and six-time All-Star and, of course, a Hall of Famer. His most famous steal of home plate was in Game 1 of the 1955 World Series, when he just beat the tag of Yogi Berra before 63,869 fans at Yankee Stadium. It was the only time Brooklyn didn't have to "wait 'til next year".
Ty Cobb holds the all-time record for steals of home with a total of 54 over a 24-season career. Of the top 10 home plate base-stealers of all time, Robinson is the only one to have played in the second half of the 20th century. Rod Carew is the closest modern-era player to Robinson, with 17. Robinson's number, 42, was retired by Major League Baseball in 1997.