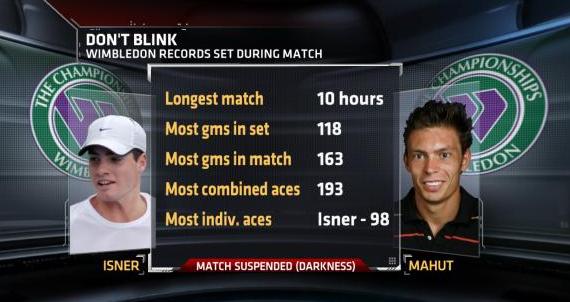 On and On ... The longest match in tennis history was suspended by darkness at the All England Club for the second day in a row. John Isner of the U.S. and Frenchman Nicolas Mahut are tied at 59-all in the decisive fifth set. It resumes this morning. Here are some notable records that were set yesterday and could be extended today.
After the jump ... this tennis match had our research department working overtime ... more amazing numbers from Wimbledon plus Stephen Strasburg gets his first loss and still sets a record and let's not forget about tonight's NBA draft. Doug Gottlieb predicts where the top talent will go.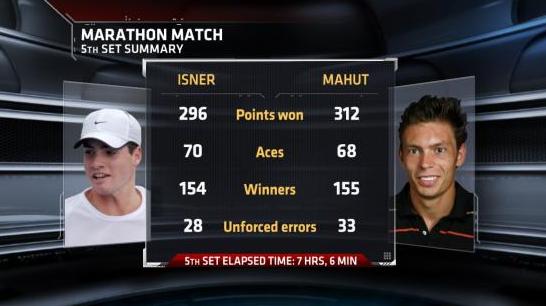 5th Set Numbers - To be continued: At 7 hours, 6 minutes the 5th set ALONE would've been the longest match in history. Isner and Mahut combined for 608 points and 138 aces. To put that in perspective, in the 1st FOUR sets, Isner and Mahut COMBINED for 54 Aces TOTAL.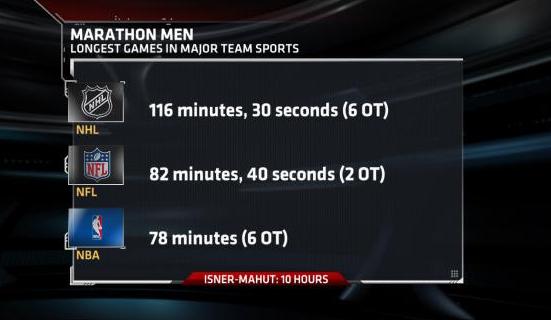 Longest Runs: For perspective, the longest game in MLB history was 8 hours and 6 minutes. It was May 8, 1984 and the White Sox beat the Brewers 7-6 when Harold Baines hit a walk-off homer in the bottom of the 25th inning off the Brewers' Chuck Porter. And here's a look at the longest games in the history of the other 3 major sports leagues. The 1936 Red Wings and Montreal Maroons went 116 and a half minutes. The 1971 Dolphins beat the Chiefs in a playoff game that went 82 minutes. And in the NBA, Indianapolis and Rochester went 6 overtimes in 1951.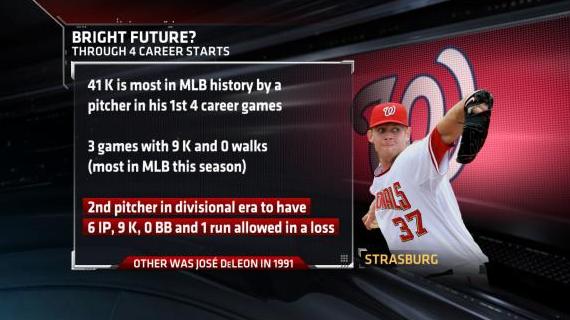 Record In A Loss: In 4 starts, Stephen Strasburg has 41 K's, which is the most ever for a player in his 1st 4 career games. He has 3 games with at least 9 K's and no walks - that leads the majors this season. And even yesterday's 1-0 defeat to the Royals is notable. He's just the 2nd pitcher in the divisional era to get 9 K's, zero walks and work 6 one-run innings in a LOSS.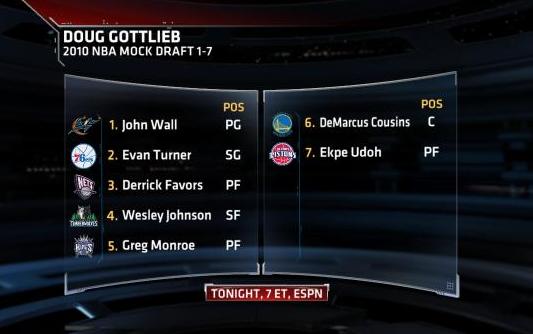 Top Picks: The Wizards, Sixers and Nets have the top 3 picks in tonight's NBA Draft. Our Doug Gottlieb lays out where he thinks the top talent will land.