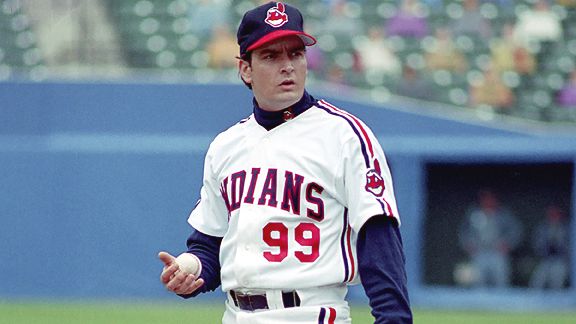 Diamond Images/Getty Images
"I'll only do this under one condition: no crazy zig-zag buzz cut this time around. Agreed?"
Grab an old Cleveland Indians hat and your Tom Berenger Fan Club membership card - the boys of "Major League" are back in town! According to a report from the A.V. Club, original writer-director David S. Ward has returned - with Charlie Sheen (aka "Rick 'Wild Thing' Vaughn") apparently in tow - to relaunch the franchise.
Rumors of another "Major League" sequel have been brewing for over a year since Bob Uecker mentioned the possibility during a Milwaukee broadcast last summer. And now, Ward has confirmed that a "Major League 3" is officially in the works. That's right, "Major League 3." Even the guy who created the franchise pretends that "Major League: Back to the Minors" didn't exist. Somewhere right now, Scott Bakula can't be very happy.
In the new film, the story will pick up 20 years later when "Wild Thing" comes out of retirement to work with a 19-year-old player. The plot will actually include three new players that could possibly carry on the franchise if the new film turns out to be popular. As for the old characters you already know and love, they'll hopefully be in the mix as well.
Ward is looking to get Tom Berenger, Corbin Bernsen, and even Wesley Snipes back for the new film. What, no Rene Russo? Or Dennis Haysbert (aka "Pedro Cerrano")? And, for what it's worth, "Major League's" Wesley Snipes won the battle over "Major League II's" Omar Epps as the favored "Willie Mays Hayes." Uh, Mr. Bakula - Ms. Russo, President Palmer, and Mr. Epps are here to join you.
The only speedbump on the horizon will be trying to pull Sheen away from his busy "Two And A Half Men" schedule, and the literal heaps of money it provides. And if you're asking yourself why now, after all these years, is "Major League" finally coming back, then we believe the answers are obvious.
First, thick plastic frames are totally back in style. Second, Wesley Snipes could use the money. Third and Fourth, Berenger and Bernsen could use the work. And fifth, and certainly not last, there is PLENTY of room to improve upon the $3.5 million box office performance of "Major League: Back to the Minors." Although that kind of opening weekend may make MacGruber jealous, it's no way for the "Major League" story to end.
Who knows, "Wild Thing" may even still have a few pitches left in him. After all, Charlie Sheen is three years younger than Jamie Moyer.