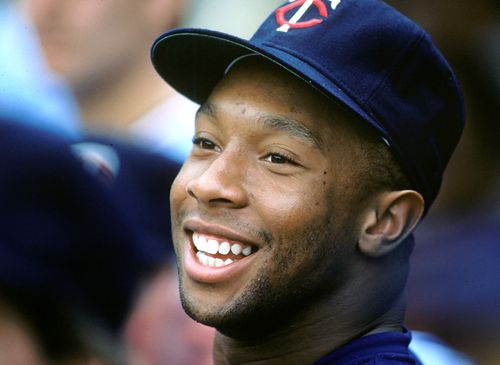 Rich Pilling/MLB Photos via Getty Images
Kirby Puckett: Minneapolis' favorite son not named "Prince."
June 26, 1994: Kirby Puckett stepped up to the plate for his first at-bat of the game and rocketed a home run. The HR moved him past Rod Carew as the all-time hits leader in Minnesota Twins history. He finished the day with three hits, raising his total to 2,088 hits in a Twins uniform. Carew remains second on the Twins list with 2,085 hits (3,053 career).
Puckett launched his record-breaking blast off of Kansas City's Scott Erickson to begin his second most famous trot around the bases (lest we forget Game 6 of the 1991 World Series). Puckett would go on to acquire 2,304 hits by the end of a Hall of Fame career cut short by glaucoma. While Puckett's hits total is the most all-time in a Twins uniform, he remains second all-time for the franchise. Sam Rice belted 2,889 hits for the hapless Washington Senators in another Hall of Fame career.
Kirby Puckett will forever be remembered in the Twin Cities for his sparkling 12-season career and for leading the Twins to their two World Series wins in 1987 and 1991. His post-season slugging percentage was .519 as he hit 5 home runs over two American League Championship Series and two World Series. But none are as famous as his Game 6 homer. Sadly, Puckett's life was cut short in 2006 from a stroke. He was elected to the Baseball Hall of Fame in 2001 on the first ballot.