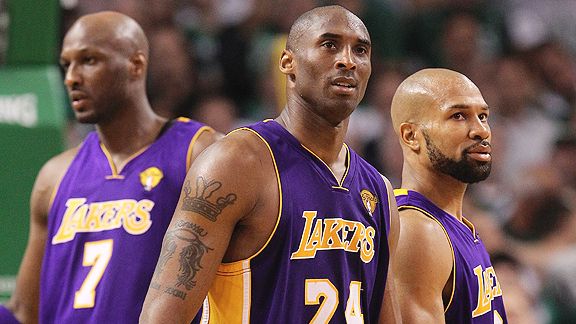 Ronald Martinez/Getty Images
Surgery On Kobe's Finger Likely
Kobe Bryant played the majority of last season with his right index finger taped up in a splint due to an avulsion fracture. Bryant is now saying that he will likely have surgery on his finger when he returns from watching the 2010 FIFA World Cup in South Africa. Bryant said, "I'm going to talk with our staff and [Lakers general manager] Mitch [Kupchak] as well and come up with a timeline to take care of some of the injuries that have been nagging me and things we need to address.
Filippo Monteforte/AFP/Getty Images
Defending Champs Italy Eliminated
Defending champion Italy was eliminated today from the 2010 FIFA World Cup with a humbling 3-2 loss to Slovakia. For the third consecutive game, the Azzurri allowed an early goal and this time they never recovered. Slovakia moves on to the round of 16.

Veteran cornerback Walt Harris has agreed to a one-year deal with the Baltimore Ravens. Harris has played 13 years, although he missed last season while recovering from a knee injury. Harris was named to the Pro Bowl in 2006, when he had a career-high eight interceptions. The deal will be completed after the 35-year-old passes a physical.