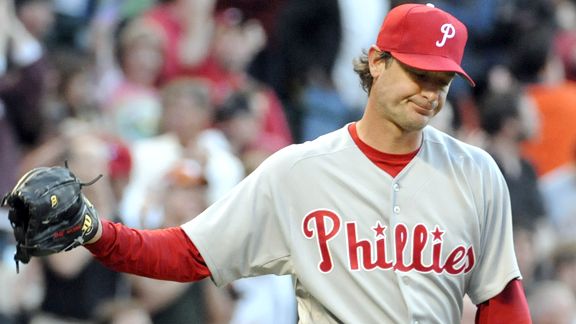 AP Photo/Pat Sullivan
Don't worry, Jamie. You'll always be a Number One in our book ... and that book will be entitled, "Pitchers Who Batters Love To Face When They Want To Hit A Home Run." (It's a working title.)
One for the Money? Well, that's pretty obvious. John Wall was selected first overall by Washington at the 2010 NBA Draft on Thursday night and like J.K. Rowling, he'll soon be cashing checks with "Wizards" on them. As for Two for the Show, we've assembled the greatest deuces from the week in sports.
2: The hole that saw the pivotal triple-bogey
54-hole leader Dustin Johnson recorded a triple-bogey on the 2nd hole of Pebble Beach, which gave Graeme McDowell the opportunity to become the first player from Northern Ireland to win the U.S. Open. Feels good to be on top among the Irish for once, doesn't it? It's McDowell's first major win and first career PGA Tour win. Johnson never pulled out of his tailspin, carding a 42 on the front 9 and an 82 on the day, the worst score by a 54-hole leader in the last 40 years. Well played, 2nd hole. Well played.
200 Wins, 2 Sets, 2 Sets, 2 Sets
Roger Federer became the fifth man in the Open Era to record 200 career grand slam match wins, recovering from two sets down to beat Alejandro Falla in the opening round at Wimbledon. It's the fifth time Federer has won a match after losing the first 2 sets at a Grand Slam. Maybe he's trying to pretend like he's really second to Nadal to lull the competition into a false sense of security. Nice try, Roger.
2sday Night, 2nd Inning, 2 Phillies Tied at 505, 22nd Career Win
Jamie Moyer tied not one but two MLB records Tuesday night. The solo home run Moyer surrendered to the Indians Russell Branyan in the 2nd inning was the 505th of Moyer's career, tying him with Hall-of-Famer Robin Roberts for the most dingers allowed in MLB history. We recognize, however, that this is a sign of Jamie's longevity rather than incompetence (can you imagine Byung-Hyun Kim's stats if he pitched the same number of innings?). To whit: Moyer allowed just one other hit the rest of the way for the win, the 22nd interleague "W" of his career. It tied him with Mark Buehrle for the most interleague wins by a pitcher.
2 Dudes Played A LOT of Tennis
The longest match in ATP history, both in terms of time and games played ended on Thursday when John Isner finally broke serve to win the 5th set 70-68 over Nicolas Mahut. The match at took 11 hours, 5 minutes over three days. In all, there were 183 total games, 215 combined aces and 112 aces by Isner. Expect a lot of reunions between these two guys in the future. We recommended getting two end-of-day masseuses ready for this sort of thing if it ever happens again.
2nd Player With 5 hits, 3hrs and a Walk
On Thursday, Dustin Pedroia became the first player to log 5 hits and 3 HR in an interleague game. Listed at 5'9" and 180 pounds, he may well be the last overall guy you'd assume to do it. In addition, the stat-line makes him only the second player to have 5 hits, 3 HR and a walk in a game in the divisional era, joining current teammate Victor Martinez, who did it in 2004. Maybe those guys should consider getting matching t-shirts for themselves in the clubhouse?
... And Evan Turner was drafted #2
Will he be a Kevin Durant #2 or a Sam Bowie #2? Too early to say.