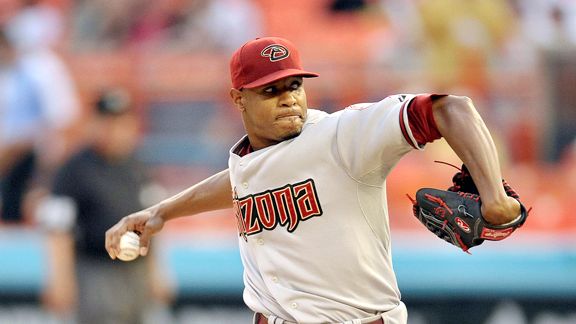 Steve Mitchell/US Presswire
Jackson Makes History in Diamondback Win
Edwin Jackson needed 149 pitches (including 8 walks) to complete his no-hit bid against the Rays, winning 1-0. Jackson's no-hitter is the fourth this season and is the second in franchise history. It was the third time the Rays have been no-hit since last July.
Worn-out Isner loses in Second Round
John Isner's run at a Wimbledon title is over. One day after winning the longest match in tennis history (11 hours, 5 minutes), the 23rd-ranked Isner lost to 49th-ranked Thiemo de Bakker of the Netherlands in 74 minutes Friday -- the shortest men's match at the All England Club so far this year.
Former Michael Vick Co-Defendant Injured in Shooting
Quanis Phillips, one of Michael Vick's 2007 dogfighting co-defendants, suffered a non-life-threatening gunshot wound early Friday morning outside a club in Virginia Beach. The club was the location of a birthday party, advertised to run Thursday from 9 p.m. to 2 a.m., for Vick, who turns 30 Saturday. An attorney for Vick says the quarterback was not present when the shooting took place, reportedly at around 2 a.m.
Giants' Chad Jones in Recovery After Accident
Giants safety Chad Jones is recovering from a serious leg injury suffered during a car wreck Friday morning. Jones' vehicle slammed into a streetcar pole in New Orleans. Jones' agent, Rocky Arceneaux, told the Newark Star Ledger his client is "in recovery" and that the immediate prognosis is positive. The safety recently signed a 4-year contract with the Giants.
Cubs Suspend Zambrono After Tirade
Cubs thrower Carlos Zambrano has been suspended indefinitely after a dugout tirade Friday. Zambrano reportedly questioned his teammates' efforts and had to be separated from teammate Derrek Lee in the visitors' dugout after surrendering four runs to the Chicago White Sox in the bottom of the first inning. The White Sox prevailed, winning 6-0.
Sources: Rod Thorn to Step Down
Rod Thorn will step down as president of the New Jersey Nets on July 15, league sources told ESPN's Chris Broussard. Thorn, the Nets president since 2000, is not being forced out by the Nets' new owner, Russian billionaire Mikhail Prokhorov, and there is no tension between the two, according to sources.
The Miami Heat are not looking to trade former #2 pick Michael Beasley, according to the Palm Beach Post. Miami Heat president Pat Riley addressed reports of the team wanting to ship Beasley to clear cap space by saying,"That's not going to happen, we want to build around him (Beasley)."
USC Seeks 1-Year Postseason Ban For Football, More Scholarships
USC submitted an appeal Friday to the NCAA specifically asking that its Infractions Appeals Committee reduce the two-year postseason ban in football to one year. They're also asking that the scholarship penalties in football for the 2011-12, 2012-13, and 2013-14 academic years be reduced to five rather than 10 each year.
Brazil, Portugal Tie - Both Move On
Portugal reached the second round of the World Cup Friday after a 0-0 draw with group-winner Brazil as two of soccer's most powerful offenses couldn't score. Both teams played without some of their top playmakers. Brazil couldn't count on Kaka because of a late red card in the match against Ivory Coast, while Portugal was without Brazil-born Deco for the second-straight match because of a right hip injury.
Brian Shaw Interviews with Cavs
The Cavs are still in need of a head coach. And Lakers assistant Brian Shaw could be a possible suitor. Shaw received permission from the Lakers to interview with the Cavs and will likely fly to Cleveland next week to meet with the team's owner and front-office staff.