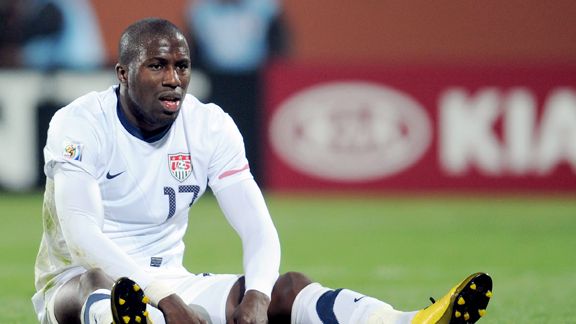 Tim Groothuis/US Presswire
Team USA Falls to Ghana 2-1 in OT
Team USA's compelling run for the World Cup ended Saturday, in OT. Ghana -- led by Asamoah Gyan's goal 3 minutes into overtime -- earned a 2-1 victory, eliminating the Americans for the second-straight World Cup. "It's a feeling of disappointment for the team," USA coach Bob Bradley said, "and also all our fans."
Sources: LeBron to Meet with Nets and Knicks July 1
The Knicks and the Nets have a date with LeBron James. Sources close to the situation told ESPN's Marc Stein that the Nets -- led by new owner Mikhail Prokhorov and minority owner/longtime James pal Jay-Z -- reportedly will be the first to meet with King James in person when free-agency begins at 12:01 a.m. ET Thursday. Then it will be the Knicks' turn.
Red Sox 2B Dustin Pedroia had a CT scan and MRI Saturday morning that revealed a broken bone in his left foot. Pedroia fouled a ball off his instep Friday during the 5-4 loss to the Giants. Angel Sanchez was activated in place of Pedroia, who was placed on the 15-day DL.
Zambrano Will Return to Bullpen
Carlos Zambrano's tirade Friday earned him a suspension and now a place in the bullpen. "[Zambrano's stay in the bullpen] is not short term, that's for sure," Cubs manager Lou Piniella said before Saturday's 3-2 loss to the Chicago White Sox. "We don't know how long [the suspension] will be. I guess it will be cleared up the following week," Piniella said.
Giants Visit Jones After Car Crash
The New York Giants are in close contact with injured rookie Chad Jones. The former LSU star, who suffered a broken leg in a car wreck Friday, received calls from the team, including head coach Tom Coughlin. Jones' agent told the New Orleans Times-Picayune that his client is likely to walk again and possibly run. A timetable for Jones' recovery is uncertain.
Memorial Service for John Wooden Draws Thousands
Thousands, including former players and coaches, paid tribute to the late John Wooden Saturday at Pauley Pavilion on the UCLA campus. The head basketball coach, who led the Bruins to 10 titles, died of natural causes just over 3 weeks ago. Wooden was 99 years old.
Ward Thinks Roethlisberger Should Talk to the Team
Steelers WR Hines Ward says constantly answering questions about his QB is tiring and that Ben Roethlisberger needs to address the team about his off-the-field trouble. Ward thinks Roethlisberger should talk to the team, but also knows it will ultimately be up to the Pro Bowl QB whether or not he does it.
Nadal Avoids Upset, Advances to Fourth Round
No. 2 seed Rafael Nadal advanced to Wimbledon's fourth round Saturday, but not without a scare. The 33rd-seeded Philipp Petzschner of Germany gave "Rafa" a 3.5-hour run for his money before falling in defeat 6-4, 4-6, 6-7 (5), 6-2, 6-3 on Saturday. Nadal will play unseeded Frenchman Paul-Henri Mathieu for a berth in the quarterfinals.
Busch Wins at New Hampshire, Danica Finishes 30th
Kyle Busch won the Nationwide Series race at New Hampshire Saturday while becoming the career laps-led leader in NASCAR's second-tier series with 8,118. Danica Patrick finished 30th, her best in four Nationwide races.