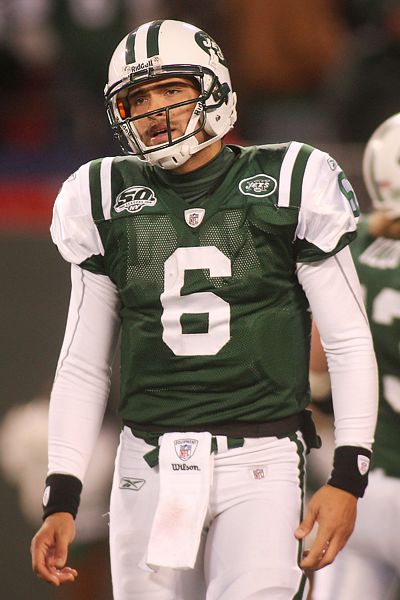 Photo: Mike Stobe/Getty Images
Don't be sad, Mark. Papa Joe is here to help.
The Jets brought in Yankees manager Joe Girardi to teach Mark "Sanchise" Sanchez how to slide yesterday. Apparently, the Jets want the player they're pinning all their future hopes on to do more to avoid potential injuries.
Great idea. Who better to get advice from on sliding than someone who knows a thing or two about… sliding? And we love the cross-sport camaraderie. This needs to happen more often.
Say the Yankee outfielders need some help chasing down potential homers. Who better to help them than the NFL's all-time leader in receptions, Jerry Rice? And bonus – celebration dance lessons!
For that matter, there's no reason why the NBA's all-time block leader Hakeem Olajuwon shouldn't be available to any NFL special teams players who need some help in the blocking field goals department. Bonus lessons include blocking under pressure.
Baseball catchers who need remedial blocking passed ball training? Let's get Devils goalie Martin Brodeur – the NHL's all-time leader in regular season wins and general brick wall – on the horn.
As for soccer players who've lost a little power on their penalty kicks? Morten Andersen – who kicked in the NFL for 25 seasons and is the league's all-time leader in most points (2,544) and most field goals (565) – is your go-to guy. Did you know he had his own SHOW?! On TV?!
And for hockey fighters who could use a few pointers, we're sure WWE champ John Cena would be glad to lend a hand. Sometimes, all it takes is another guy from another sport to show you the way.