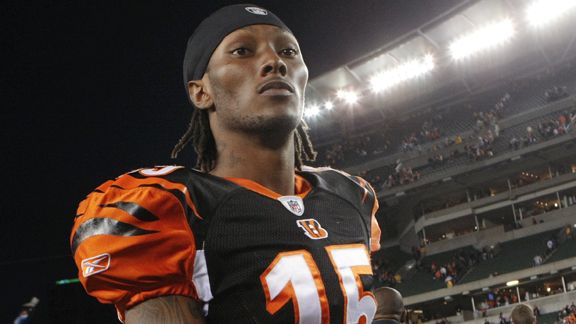 AP Photo/Ed Reinke
Researchers: WR Chris Henry Died with Brain Trauma
Chris Henry, the Cincinnati Bengals receiver who died after an accident last December, had a form of degenerative brain damage caused by multiple hits to the head at the time of his death. Scientists at the Brain Injury Research Institute say Henry, who either fell or jumped out of the back of a truck driven by his fiancee and suffered massive head injuries, had chronic traumatic encephalopathy. Known as CTE, the condition has been discovered in the brains of more than 50 deceased former athletes, many of whom died under unusual circumstance. The scientists plan to present results of their forensic examination at a news conference Monday.
Germany Easily Handles England, 4-1
Germany jumped out to an early 2-0 lead, but a furious run by England netted one goal and should have added the equalizer in a wildly entertaining 1st half. Frank Lampard appeared to tie the score at two, but the referees thought the ball did not cross the goal line. It was all Germany in the 2nd half, however, as striker Thomas Mueller scored twice in 3 minutes.
Source: Knicks to Talk to Johnson
The New York Knicks have a busy day planned for July 1. The team will begin its free-agent tour meeting with Hawks all-star Joe Johnson in Los Angeles, where they're expected to offer him a maximum contract, according to ESPN NBA Insider Chris Broussard. Knicks president Donnie Walsh and head coach Mike D'Antoni hope to meet with Suns all-star Amar'e Stoudemire after Johnson. Both meetings would precede their Thursday pitch to LeBron James in Ohio.
Nets Working to Lure Several Big Stars
The New Jersey Nets free-agency recruiting tour begins with LeBron James, then targets two more marquee all-stars, sources told ESPN NBA Insider Marc Stein. The team has separate meetings tentatively scheduled Friday in New York City with Miami's Dwyane Wade and Toronto's Chris Bosh. Free agency begins Thursday, July 1.
Phil Jackson: Health Will Influence Decision
Phil Jackson saw Denver Nuggets coach George Karl sidelined last season with cancer, and says it will affect his decision whether or not to return to the Lakers' bench next season. Jackson told reporters Sunday that he wouldn't want to leave his squad without a coach in the middle of the season, as Karl was forced to do earlier this year while undergoing chemotherapy and radiation for throat and neck cancer.
Moyer Sets Home Run Record Sunday
Phillies pitcher Jamie Moyer made history Sunday against the Blue Jays. The right-hander gave up a home run to Toronto CF Vernon Wells. The long ball was the 506th home run allowed by Moyer, the most ever by a MLB pitcher. The 47-year-old also pitched the 4,000th inning of his career. He is the 40th player in baseball history to achieve the milestone.
Jimmie Johnson Rallies in New Hampshire
Jimmie Johnson earned his 5th victory of the season Sunday, winning at the New Hampshire Motor Speedway. Johnson took the lead after surging past Kurt Busch with seven laps to go. It's the four-time defending champion's second-straight win after taking the checkered flag last week on the road course at Infineon Raceway.
Buchholz Feeling Better Following Injury
Red Sox pitcher Clay Buchholz hopes he won't have to miss a start after hyper-extending his knee Saturday. Buchholz suffered the injury while running the bases in the 2nd inning after collecting his first MLB hit. As the only Sox starter with double-digit wins, Boston could hardly afford to lose their young right-hander.
Goodell Doesn't Mention Roethlisberger During Rookie Symposium
The NFL commissioner has spoken. Roger Goodell addressed the league's rookies Sunday, emphasizing player responsibility and honoring the game, during the NFL's annual four-day symposium. Goodell says he spoke about "protecting the shield," his chosen words for protecting the NFL's integrity.