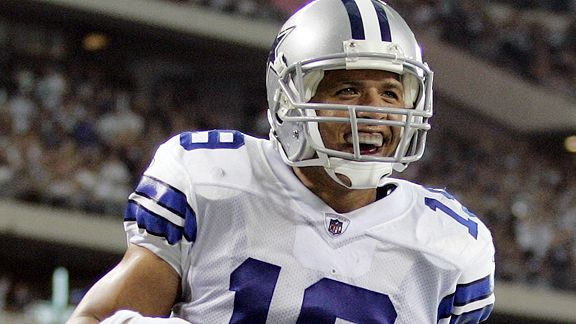 Tim Heitman/US Presswire
"Bruce Jenner better be a Cowboys fan. That could be a deal breaker."
Watch out Kurt Warner, Miles Austin is just a couple of Hy-Vee grocery bags away from joining you atop the NFL's greatest rags to richest stories. The Monmouth College wideout, who went undrafted in 2006 and later became a Dallas Cowboys Pro Bowler, has officially added Kim Kardashian to his storybook resume. Austin and Kardashian exchanged numbers in L.A. a few months ago and have been talking ever since.
Naturally, Cowboys fans will want to compare the Austin-Kardashian relationship to the Romo-Simpson affair that doomed Dallas' 2007 season, but so far Kim has been nothing but a good luck charm for her previous beaus. She was a staple at Saints games while she dated Reggie Bush last season, a season that ended with the Saints raising the Lombardi Trophy in February. She was also rumored to have been involved with Cristiano Ronaldo back in April and, if you weren't aware, Portugal did not give up a single goal during group play at the World Cup. Even Kim's sister, Chloe, is a human four-leaf clover. Just a couple of months after tying the knot with Lamar Odom, the Lakers won their second consecutive NBA championship.
With Super Bowl XLV scheduled to be played in Cowboys Stadium, Austin's new-found romance could mean home field advantage for America's Team come February if Miles and Kim can stand the test of time. If you're a Dallas fan and you want to help the cause, feel free to send Kim a Hail Berry from Edible Arrangements "from Miles Austin." That's an easy way to keep this relationship alive until at least training camp.
If Austin is unable to balance his offseason football regimen with daily cameos on "Keeping Up With the Kardashians" and the couple hits the skids, Cowboys fans should have a backup plan to keep the momentum going for the upcoming NFL season. There's a chance Kourtney Kardashian (sister No. 3) could also be in the market for a new boyfriend. And last we checked Cowboys, rookie wideout Dez Bryant was available. So keep your eyes on that Dallas fans. Because when you're trying to win a World Championship, it would seem that the Kardashian's don't play favorites.