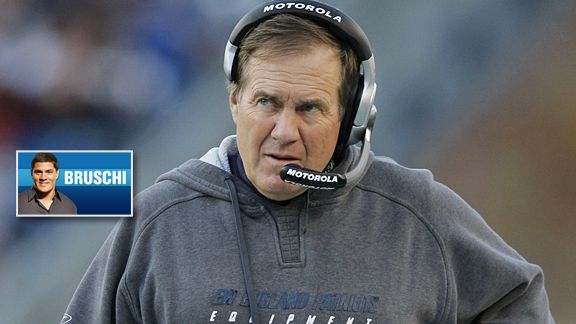 David Butler II/US Presswire
Let's not beat around the bush. Let's get right down to the question we are all wondering: Why did Bill Belichick go for it on fourth-and-2 with 2:08 left?
The easy answer is that he wanted to win the game. If the Patriots convert it, then we are all talking about how it was a gutsy call.
As a former defender on that team, I would've cared less about the result of that fourth-down attempt. The decision to go for it would be enough to make my blood boil for weeks. Bill Belichick sent a message to his defense. He felt that his chances were better to go for it on his own 28-yard line than to punt it away and make Peyton Manning have to drive the majority of the field to win the game.
I would look at this decision as a lack of confidence in our ability as a defensive unit to come up with a big play to win the game. If I'm Jerod Mayo, Gary Guyton, Darius Butler, Jonathan Wilhite, Brandon Meriweather and Brandon McGowan -- to name a few -- I'm wondering why we weren't given the chance to do what we've been coached to do ever since the first day we practiced.
Sure, Tom Brady and the offense loved the vote of confidence that their head coach was giving them, but the message sent to the defense was loud and clear. It was a message of doubt. A message that will be with the entire defensive unit -- coaches and players -- until a situation comes up like this again. And I'm not talking about stopping the New York Jets with Mark Sanchez. I'm talking about the biggest of games on the biggest of stages. A showdown on "Monday Night Football" with the New Orleans Saints is on the horizon. Let's see if the defense is considered good enough to be on the field when the game is on the line in two weeks.
Belichick will take full responsibility for his decision. That will help little. He is going to have to rebuild the feeling of confidence in his defensive unit. Right now, every member of the defense is wishing they had the chance to stop Manning and the Colts offense on Sunday night.
That's how I see it and that's how championship defenses should see it.