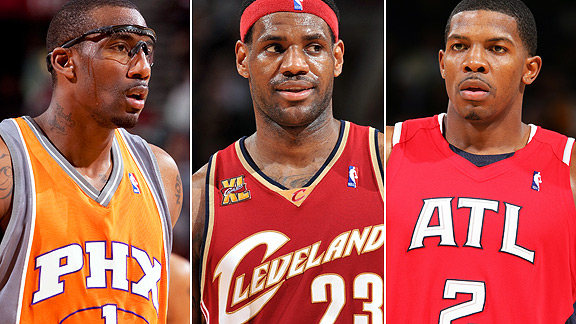 NBAE/Getty Images
Where Will NBA Free Agents Land?
As of 12:01 a.m. ET Thursday, we welcome you to the 2010 version of NBA free agency. The list of this year's NBA free agents is arguably the greatest ever. LeBron James headlines the class, followed by the likes of Dwyane Wade, Chris Bosh, Amar'e Stoudemire, Joe Johnson, Dirk Nowitzki and many more. The players are now free to entertain offers from other teams. Will the balance of power shift in the NBA? If so, in which direction?
Sources: Cavs in Negotiations with Scott
The Cleveland Cavaliers are negotiating with former New Orleans Hornets coach Byron Scott to fill their vacancy at that same position. This according to sources of ESPN NBA Insider Chris Broussard. The job would be third for the 49-year-old Scott, who led the New Jersey Nets to consecutive NBA Finals appearances in 2002 and 2003.
Doc Rivers Returning to the Celtics Next Year
Doc Rivers wants another run at the title with the Boston Celtics. In a text message to the Boston Globe, Rivers said "I'm coming back" and "I want another crack at it with this group." Rivers has one more year on his contract.
Video Contradicts Vick's Version of Shooting
There are two sides to the latest Michael Vick story. Vick's lawyer says the Eagles QB was "long gone" before a shooting took place near a Virginia Beach restaurant that hosted his 30th birthday party. A partner of the restaurant, however, told a newspaper that owners have turned over video surveillance that shows Vick leaving just three minutes before shots were fired.
Mavericks and Dirk Set Meeting
Dirk Nowitzki will sign with the Dallas Mavericks, if all goes according to the team's President of Basketball Operations Donnie Nelson. "This is our No. 1 objective," Nelson said. "Is it possible things wouldn't work out? Yes. But, with this there is no 'B' plan."
Berdych Shocks Federer In Wimbledon Quarters
Roger Federer's run at a seventh Wimbledon title is over. Federer was ousted by Tomas Berdych in the quarterfinals at the All England Club Wednesday. The 12th-seeded Czech beat Federer 6-4, 3-6, 6-1, 6-4, sending Federer home before the final for the first time since 2002.
Reports: Woods Part of the Galea Case
Tiger Woods has been interviewed by federal authorities investigating Canadian doctor Anthony Galea. Galea is accused of distributing HGH, according to multiple reports. Woods previously acknowledged that he's been treated by the Toronto-based doctor but insisted that he did not receive any performance-enhancing drugs.
Dodgers LF Manny Ramirez is scheduled to get an MRI on his injured right hamstring on Thursday. Ramirez suffered the injury in the first inning of Tuesday night's victory over the Giants. In his last 15 games before the injury, Manny hit .460 with 11 RBIs.
Bobcats Center Chandler Won't Opt Out of Deal
Charlotte Bobcats center Tyson Chandler has decided not to opt out of the final year of his contract to become an unrestricted free agent. Chandler will make about $12.7 million next season, leaving the Bobcats' payroll close to the luxury-tax figure owner Michael Jordan has said they won't exceed.
Source: Hurricanes' Brind'Amour Retiring After 21 Seasons
Carolina Hurricanes captain Rod Brind'Amour is retiring from playing hockey, but he won't be far from the arena, a source told ESPN.com. Brind'Amour retired Wednesday after 21 NHL seasons, but will stay with the team in an unspecified capacity. He led the Hurricanes to their only Stanley Cup championship in 2006.
The Associated Press contributed to this report.