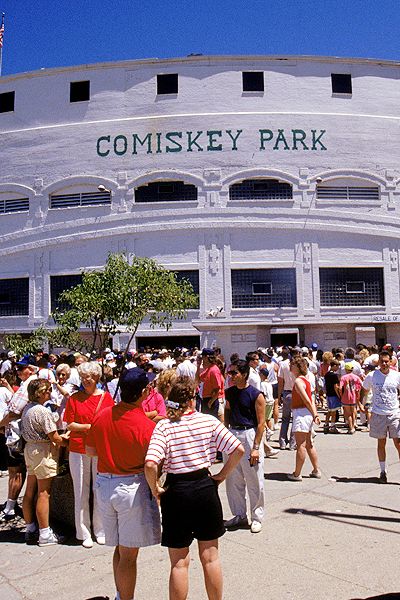 Jonathan Daniel/Getty Images
Behold: the only park in baseball to have hosted three All-Star Games and Disco Demolition Night.
July 1, 1910: The ultra-modern White Sox Park (it would be renamed for owner Charles Comiskey in time for the 1913 season) rolls open its gates for the first game of it's 80-year history. The White Sox would lose to the St. Louis Browns, 2-0.
Seasons would come and go, but for the next eight decades baseball was played in Chicago's South Side on the corner of 35th St. and Shields. Comiskey hosted several famous events, such as the infamous 1919 World Series that resulted in the Black Sox Scandal and, lest we forget, Disco Demolition Night.
Comiskey also hosted some unbelievable games, none more interesting than New York Yankee Andy Hawkins' no-hitter on July 1, 1990, exactly 80 years to the day the old park opened. With the score knotted at 0-0 in the top of the 8th, the Yankees gave up a series of errors that saw the Sox score 4 runs without the benefit of a hit. That was all they needed - Chicago won 4-0 and Hawkins had the most awkward no-hitter "celebration" of all time.
The Sox won a single World Series in 1917 while playing at Comiskey and would not win again until 2005 - across the street at U.S. Cellular Field. They won the AL pennant in 1919 and 1959 but lost the World Series to a betting scandal and the Los Angeles Dodgers, respectively.
Many of Comiskey's most famous features were the brainchild of eccentric Sox owner Bill Veeck. Comiskey held the most famous scoreboard in baseball and when the White Sox moved across the street they brought the fireworks and pinwheels (albeit in a more modern scoreboard) with them. The park may be gone, but you can still take a virtual tour to see where ballplayers from Shoeless Joe Jackson to Frank "Big Hurt" Thomas once patrolled.