Mariners 7, Yankees 0
Seattle has won 9 of its last 12 games and 5 of its last 6 against the Yankees. Michael Saunders hit 2 HR - his first career multi-HR game. He entered with 5 HR in 84 career games prior to Wednesday. Felix Hernandez is 4-1 with a 2.36 ERA (13 ER/49.2 IP) in his last 5 starts. The Yankees were shut out at home for the second time this season (they were shut out only once at home all of last year) and they have lost three of their last four games. So the Mariners aces did their part, and now CC Sabathia will try to help the Yanks trump a Seattle sweep, writes Andrew Marchand.
Game Recap | Box Score | MLB Standings | A-Rod gives $250K to Bronx children's hospital | Big-money Sabathia sets out to match M's aces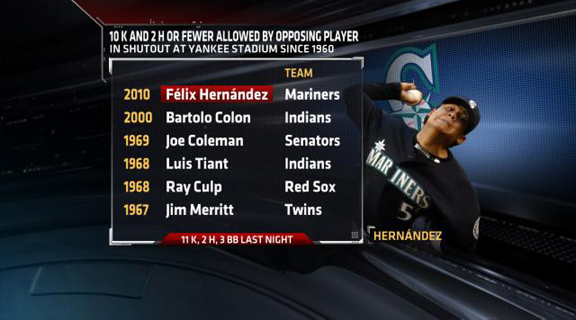 MONEY: Felix Hernandez accomplishes something only 5 other pitchers have done in the last 50 years, pitching a shutout at Yankee Stadium while striking out at least 10 and allowing 2 hits or fewer.
Note: The Elias Sports Bureau and ESPN Stats and Information Group contributed to this post